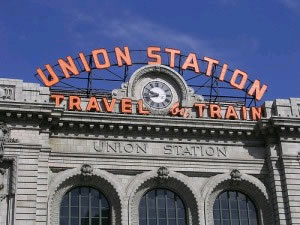 Millions in stimulus dollars could go to putting a bus station beneath Union Station, which is being redeveloped by Beaver Creek-based East West Partners to be the hub for Denver's FasTracks rail system.
Courtesy of Flickr/Bettinche
Majority of stimulus dollars slated for transit headed to RTD, Denver's Union Station
FasTracks hub being redeveloped by Beaver Creek's East West Partners could see windfall
By David O. Williams
February 20, 2009 — Local rail and public transit enthusiasts -- including officials working toward high-speed rail along I-70 through Vail -- are in for a cold slap of reality after the historic signing of the $787 billion economic recovery plan.

During Tuesday's visit to Denver with President Barack Obama, Vice President Joe Biden said the federal stimulus bill will be a big boost to mass transit in the United States, with funding impacts for commuter rail projects from Colorado to Amtrak's Northeast Corridor.

"We should have the best transportation system in the world, and we don't," said Biden.

But many mass transit advocates are disappointed with the funding disparity between the money pegged for bridge and road repairs ($29 billion) and the funds for passenger rail and other mass-transit improvements ($17.7 billion). To break it down, that means $8.4 billion for transit, $8 billion for high-speed rail and $1.3 billion for Amtrak.

Colorado's Front Range and the Denver metro area were used as shining examples of the "New Energy Economy" during Tuesday's event. But the stimulus legislation's funding realities mean that only $103.5 million will be coming to state's way for transit projects.

How the money is spent remains to be seen, but it's clearly not enough to meet the needs of the Regional Transportation District's FasTracks light and commuter rail network, funded by a sales tax increase in 2004. The network is now $2.1 billion short of the $7.9 billion needed to build the system promised to voters.

RTD is weighing taking another sales tax hike to the voters, and metro area mayors – feeling shortchanged by service reductions – are looking for assurances RTD will deliver this time if it gets another sales tax bump. Some political analysts, though, citing the same economic collapse that's hitting RTD and transit systems nationwide, say this is the worst possible time to ask voters for more money.

Of the $103.5 million in transit stimulus funds coming to Colorado — with 90 percent of it dedicated to the Front Range and the Denver metro area — it's clear a huge chunk of it will go to the RTD, which submitted a $274 million list of "shovel-ready' projects, according to RTD FasTracks spokeswoman Pauletta Tonilas. What's unclear is how the stimulus money will be divvied up.

"The short story really about the stimulus funds is that it's just really too early for us to tell what we'll get, how much money we'll get and what can be applied specifically to FasTracks and Denver Union Station," Tonilas said, referring to the renovation of Denver's historic downtown rail station, which is being touted as the central hub of the FasTracks network.

One of the most expensive aspects of Union Station's redevelopment, which includes condos, restaurants and retail, is the FasTrack plan to build an intermodal bus station beneath the complex.

"We submitted a request specifically for Denver Union Station to DRCOG (the Denver Regional Council of Governments) for $18.6 million that would be part of the [stimulus] funds that get dispersed to DRCOG," Tonilas said.

Overall, though, the governor's blue-ribbon panel on transportation has recommended the state increase its transportation funding for all projects, including roads, bridges and mass transit, by $1.5 billion a year.

State lawmakers are currently wrangling over increasing vehicle registration fees, a move that could provide about $250 million a year in emergency road and bridge fixes, but a statewide vote on tax increases to create a permanent funding source looms on the horizon.

Though it is unlikely in the current economic climate, most state lawmakers say such a tax increase is inevitable given declining gas taxes to fund road projects.

"Unlike the federal government that prints money, all of this stuff costs money, too, so eventually Colorado voters will be asked to say, 'Hey, would you be willing to support this or that for Colorado?'" said State Sen. Dan Gibbs, D-Silverthorne, sponsor of the FASTER vehicle registration bill currently in the House.

Although he's particularly troubled by periodic gridlock on Interstate 70 between Denver and the Western Slope, Gibbs said any discussion of expanding passenger rail beyond the Denver metro area needs to include the Front Range.

"We need to have a statewide perspective, because if it's just on I-70, folks in Denver or Colorado Springs will say, 'Hey, what do I get out of this?'" Gibbs said.

"We're doing what we can do at the state level with FASTER, and I would say this is just a small step in the right direction as far as what our real needs are, but then all of you will have the opportunity to vote on the future of transportation and transit in Colorado."

Stimulus dollars will have virtually no impact on a long-term fix for I-70 aside from some repaving and bridge repairs, said Flo Raitano, executive director of the intergovernmental I-70 Coalition, because final long-term plans are years away from being realized. However, Raitano said rail along I-70 needs local transit to supplement it, and some of those agencies could see stimulus dollars for new buses and other infrastructure.

"[Stimulus] will help ultimately the transportation solution for the corridor because we're looking at the stimulus having some benefit for our local transportation authorities," Raitano said, but which local transit agencies will see funding remains a question mark.

The Rocky Mountain Rail Authority, another intergovernmental organization, is currently conducting a $1.5 million high-speed rail study for both the I-70 and I-25 corridors. Funding for that study, slated to be completed in June, came from the Colorado Department of Transportation and local governments along both corridors.

Harry Dale, a Clear Creek County commissioner and executive director of the rail authority, said many of the questions about capital costs, potential routes, ridership and funding will be addressed at a Feb. 27 steering committee meeting in Golden.

"It will answer some of the questions that are coming up with regards to sharing rights of way with freight railroads and highway improvements that we assume will happen within the study period and what that means in terms of what kind of travel demand will be met or will be left unmet that we can accommodate," Dale said.

The rail study envisions high-speed trains along the I-25 corridor from the southern border with New Mexico to the northern border with Wyoming, as well as along I-70 from the eastern border with Kansas to the western border with Utah. Its price tag would be in the billions.

"You talk about it being statewide, and what's nice is the RMRA is an I-25 and I-70 corridor solution," said Vail Town Councilman Mark Gordon, who sits on the authority. "It will go from state border to state border on all four sides."


1 Comment on "Majority of stimulus dollars slated for transit headed to RTD, Denver's Union Station"