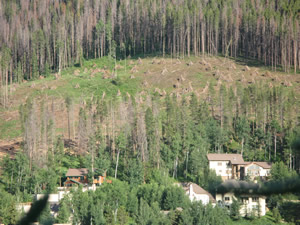 This is what a beetle-kill forest in West Vail looks like after wildland firefighting crews moved through with chainsaws. It could look a lot worse if more mitigation isn't done.
By David O. Williams
Scanlan, Gibbs, Runyon take beetle battle inside Beltway
Aspen green guru Auden Schendler stumps for new book on sustainability
By David O. Williams
February 25, 2009 — State House Majority Whip Christine Scanlan, D-Dillon, is whipping up a little beetle-mania this week in Washington, ratcheting up the rhetoric in the war for more money to battle the bug that won the West.

Issuing a release with language like "before it's too late," "extreme risk," and "urgent national importance," Scanlan last week launched two pieces of legislation in the state House (SB 1 and HB 1199) aimed at the mountain pine beetle epidemic and will lead a delegation to D.C. Wednesday to get the attention of the feds.

With about 2 million acres of lodgepole pine forests in the northern and central Colorado Rockies already wiped out by the insects, Scanlan — the state's new self-anointed beetle queen — is on a mission to "save lives and properties."

For the benefit of the inside-the-Beltway crowd, she points out a catastrophic wildfire or even a massive blow-down of dead trees could devastate the national power grid and clog critical watersheds with debris.

She'll likely have a sympathetic ear in Interior Secretary and former Colorado Sen. Ken Salazar and members of Colorado's congressional delegation, but funding for forest-fire mitigation is incredibly tight.

Scanlan will be joined by state Sen. Dan Gibbs, D-Silverthorne; five county commissioners, including Eagle County's own Peter Runyon; two mayors; state forester Jeff Jahnke and a handful of other wildfire and power-grid experts.

Aspen's green guru writes new book

Can Colorado's ski industry — which markets to millionaires who jet in on fuel-guzzling Gulfstreams, inhabit 10,000-square-foot starter castles two weeks a year, ski on artificial snow and walk on snow-melted streets — in any way lay claim to being a green leader?

Auden Schendler, the Aspen Skiing Co.'s executive director of sustainability, acknowledges the inherent hypocrisy of the overtly consumptive Glitter Gulch trying to combat climate change but also argues Aspen can use its international spotlight to effect real change before it's too late.

In his new book, "Getting Green Done: Hard Truths from the Front Lines of the Sustainability Revolution," Schendler lays out his own formula for sustainable living, and in an article in Sunday's Aspen Times, he answers detractors who say Aspen is engaged in green washing on a grand scale.

Just as Aspen may consume more resources than most American towns its size, Schendler says the United States uses a disproportionate share of the world's energy resources. And because it's impossible to make moral judgments about energy use, he argues humans must collectively fix the system and reduce their carbon footprint.

Rally for the regs in Glenwood

Garfield County, the so-called "ground zero" of the late, great oil and gas boom, will be the scene of a rally in support of the more stringent drilling regulations currently being debated in the Statehouse in Denver.

Specifically, the Grand Valley Citizens Alliance is putting on a public social in favor of the new regs at 5 p.m. Thursday at the Glenwood Springs Community Center.

The new regs give greater protection to wildlife habitat and put more emphasis on public safety and air and water quality. They were recently adopted by the Colorado Oil and Gas Conservation Commission after nearly two years of negotiations, but now require the approval of the state Legislature.

Some lawmakers, mostly Republicans, have attacked the meticulously crafted regulations as if they came out of nowhere and without any input from the oil and gas industry. They argue that in a down economy, now is not the time to put more regulation on the struggling sector, especially with oil and gas prices plummeting along with the stock market in recent months.

But other lawmakers, mostly Democrats, say the process for drafting the rules was fair and the price of oil and gas plunged due to the collapse of global markets and not the crafting of badly needed rules to protect the environment and residents of oil-and-gas hotspots around the state.


Comment on "Scanlan, Gibbs, Runyon take beetle battle inside Beltway" using the form below