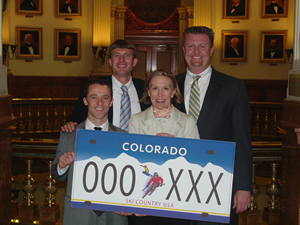 Backers of the proposed skier vanity plate are, left to right: Ari Stiller-Shulman of Colorado Ski Country USA, Sen. Dan Gibbs, CSCUSA CEO Melanie Mills and Brent Lessing, Hertz Corporation's Southwest Region General Fleet Manager.
Courtesy of Colorado Ski Country USA
Colorado skier license plate picks up momentum in statehouse
Skier/snowboarder design aimed at countering neighboring Utah's signature plates
By David O. Williams
March 11, 2009 — More people ski more days in Colorado than any other state, but there's no clue of that out on the open road, unless you're stuck in weekend skier traffic on Interstate 70.

A pair of ski-town lawmakers are out to change that with a ski-themed license plate that comes with the added bonus of earning about $50,000 a year in transportation funding to fix decrepit roads and bridges.

Granted, that's only enough money to repave a mile or two of I-70, but state Rep. Christine Scanlan, D-Dillon, and Sen. Dan Gibbs, D-Silverthorne, were likely thinking more about ski-industry marketing benefits when they agreed to sponsor Senate Bill 161.

The state's ski-industry lobbying group, Colorado Ski Country USA, launched a petition drive last year, gathering just under 4,500 signatures of people interested in purchasing the new specialty plates for $50 a pop, on top of the usual registration fees.

The Colorado Department of Revenue decides the ultimate design of the plate, but first the Legislature must approve the bill, which already has the unanimous stamp of approval of the Senate Transportation Committee.

A prototype design displayed during the petition drive featured a skier and a snowboarder on a white mountain background with a blue sky — reminiscent of Utah's now defunct white plate with a solo skier and the tagline "Ski Utah! Greatest snow on Earth." This state's proposed plate reads "Colorado" above the skier and snowboarder and "Ski Country USA" below.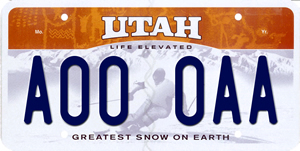 The new Utah skier plate is a modern take on the old, white "Greatest Snow on Earth" plates.


The old Utah plate, in use since the 1980s, was recently replaced by a more graphic skier plate that kept the same tagline, and Utah has been pushing hard to cut into Colorado's skier-day dominance. Colorado sees about 12 million skier days per season, compared to about 4 million for Utah.

"As a state where skiing is our signature sport, we wanted to have a Colorado skiing plate just like they have in Utah, Idaho and California," said Ari Stiller-Shulman, public policy and communications manager for Colorado Ski Country USA (CSCUSA).

"Utah's plate is very prominent because we get a lot of Utahans traveling through Colorado and you see them a lot. Ours is way cooler."

But not everyone agrees with that assessment. One post on a ski-oriented Web site compared the Colorado plate to "clip art," and another post from someone claiming to be a Utah resident hoped for a design change.

"Living in Utah, it's always fun to read about the rivalry between our two states and the ski industry. (But) I do hope the DOR comes up with a different design. The one I saw in your post was dreadful."

Skiing Magazine suggested a different design altogether: a crowded mountain backdrop with the letters "FMR TXN" (translation: Former Texan) and the tagline "Everyone skis here."

But Stiller-Shulman said the Department of Revenue mandates certain design specifications for visual clarity, and CSCUSA itself insisted on certain elements.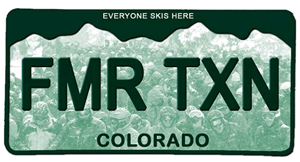 Skiing Magazine had this tongue-in-cheek suggestion for a new Colorado skier plate.

"We wanted to make sure the skier and the rider are wearing helmets, of course, but it has a skier and a snowboarder on it, and if the current form of the plate were to be the one that is used in the end, it will be the only plate in the nation with a snowboarder on it, which is kind of cool," said Stiller-Shulman, a snowboarder.

But even that aspect could be controversial. About 5.5 million Americans skied in the United States in 2007, according to the National Ski Areas Association, compared to 5.1 million snowboarders, but there's often tension between the two groups. Two Utah ski areas — Deer Valley and Alta — still ban snowboarding, but no Colorado ski areas keep boarders out.

"We expect (the Colorado plate) to be really popular and a great way for Coloradans to show pride when they ride," Stiller-Shulman said.

1 Comment on "Colorado skier license plate picks up momentum in statehouse"