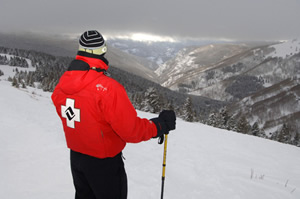 Skier safety for children under 10 is once again in the news, with the U.S. Chamber of Commerce highlighting a skier collision case involving Scott Swimm of Eagle-Vail.
By Dan Davis
trekkerphoto.com
Eagle-Vail boy sued in Beaver Creek ski collision case featured in lawsuit reform ad
By David O. Williams
April 8, 2009 — The parents of an Eagle-Vail boy sued in a ski accident when he was just 8 years old are featured in a U.S. Chamber of Commerce ad campaign that targets lawsuit abuse.

In a short video clip, Susan and Robb Swimm talk about the emotional toll exacted from their son, Scott, when sheriff's deputies showed up at their door in 2007 to serve the lawsuit, filed on behalf of then-60-year-old David Pfahler of Allentown, Pa.

Pfahler claimed the boy slammed into him at a high rate of speed while skiing on a catwalk at Beaver Creek ski area in 2006. Robb Swimm, who was skiing behind his son at the time, said Scott wasn't going very fast an actually managed to avoid a direct collision with Pfahler, who turned and stopped unexpectedly.

Since talking to RealVail.com last May and vowing to try and change the Colorado Skier Safety Act to exempt children under 10, the Swimms have reluctantly allowed their homeowners insurance company to settle the $75,000 suit that seeks compensation for medical bills.

The Swimms' video is featured on www.FacesOfLawsuitAbuse.org, which is described as a project of the U.S. Chamber Institute for Legal Reform (ILR) –- "a national campaign, representing the nation's business community, with the critical mission of making America's legal system simpler, fairer and faster for everyone."

RealVail.com posted a story on the case in May. Check out the Swimm lawsuit story for more details.



1 Comment on "Eagle-Vail boy sued in Beaver Creek ski collision case featured in lawsuit reform ad"