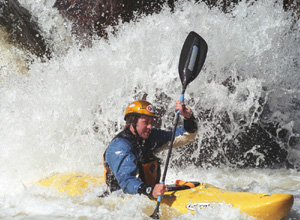 The Teva Mountain Games should benefit from the new water-control system, says event organizer Joel Heath, as kayakers like Brad Ludden (above) will have a longer season to play in Gore Creek's kayak park.
Dan Davis
trekkerphoto.com
Town to improve whitewater park
By realvail.com
September 5, 2007 — Work in Vail's Whitewater Park at the Gore Creek Promenade began Sept. 4 to improve the main feature for freestyle kayakers. The enhancements, approved by the Vail Town Council in June, will include installation of six inflatable bladders on an existing concrete slab upstream of the International Bridge.

According to Town of Vail Landscape Architect Gregg Barrie, the computer-controlled system will automatically read the water level in the creek and manipulate and optimize and maintain the feature's flow, while allowing freestyle kayakers to enjoy the whitewater park for a longer duration through the summer.

Barrie says the automated system has been used successfully in several manmade whitewater parks in eastern U.S. with Vail being the first to use the enhancements in natural waters. The system is anticipated to be easy to maintain, can be adjusted for expert and amateur boaters and contains an override system that deflates the bladders during flood conditions. "We're on the cutting edge by using this technology in a natural setting," said Barrie. "We're excited to move forward with the project and expect to see an increase in use of the park next spring."

The whitewater park is home to the kayaking freestyle competition of the Teva Mountain Games at Vail, an event that brings in over 2,000 athletes and 33,000 spectators to Vail each spring. Event organizer Joel Heath says whitewater park enhancements will increase the capacity of the feature and improve the recreation experience for users of the whitewater park and participants of the Teva Mountain Games.

"This is an innovative idea to help improve upon the success of Vail's whitewater park," said Heath. "This is the equivalent of what snowmaking has done for skiing. This technology will allow boaters to dial in the river feature regardless of the water flow. Without any noticeable visual or environmental impacts, this technology will allow boaters to put water in the sweet spot to make a better feature for a longer period of time, creating a bigger sweet spot for Vail tourism and recreation."

The whitewater park was completed in 2000. Cost to enhance the park's feature is approximately $376,000 and is scheduled to be completed in early October.

Comment on "Town to improve whitewater park" using the form below