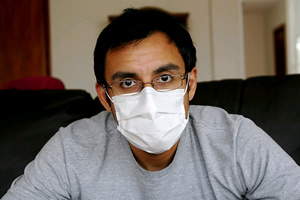 Eagle County health officials are urging precautions on the wake of a swine flu outbreak in Mexico.
Courtesy of Citoyen du Monde Inc/Flickr
Eagle County health officials warn against complacency in combating swine flu outbreak
By realvail.com
April 28, 2009 — In response to the recent swine flu outbreak in the United States, Eagle County's Public Health Department is reminding the community of preventative steps that can be taken to avoid spreading the illness.

The department is working with community partners, including medical providers, the Vail Valley Medical Center and the Eagle County School District, to be prepared should the swine flu reach Eagle County. As of Tuesday, there are no reported cases of swine flu in the county or the state.

Officials with the Public Health Department says all individuals with mild flu-like illness should stay home, regardless of travel history. Children and adolescents with a fever should not go to day care or school, and adults with a fever should not go to work until symptoms resolve.

The symptoms of swine flu in humans are similar to the symptoms of seasonal flu and may include fever greater than 100 degrees Fahrenheit, sore throat, cough, stuffy nose, chills, headache, body aches and fatigue.

In some cases, diarrhea and vomiting have been reported in association with the outbreak. According to Eagle County's Epidemiologist Rebecca Larson, while severe illness and deaths have been reported with swine flu infection in other countries, so far occurrences of the disease have been mild within the U.S.

"The swine flu is acting just like seasonal flu," said Larson. "Only one case in the country has required hospitalization." Individuals with severe illness, such as difficulty breathing, should contact their health care provider.

Swine flu is passed from person to person and is not spread by pigs or from eating pork. Public Health officials are encouraging people to take precautions to decrease their chances of getting the flu, including washing hands frequently, covering sneezes and coughs and avoiding others with respiratory illnesses.

Larson says this is a good time for community members to ensure they are prepared for an emergency that might require staying home for several days. This includes creating a kit with enough food, water and other supplies for a 72-hour period.

The American Red Cross Web site at www.redcross.org and the Ready Colorado site at www.readycolorado.org are recommended resources. The Web sites provide suggestions on items to include in a household supply kit and tips to develop a family emergency communications plan.

Also, county residents are encouraged to subscribe to EC Alert, which provides immediate and important emergency information to all mobile devices including cell phones, pagers and PDAs, or via any email address. The service is free and customizable; text message charges from your cell phone carrier may apply. Visit www.ecalert.org to enroll.

The Colorado Department of Public Health and Environment is monitoring flu-like and respiratory illness activity throughout the state to identify any occurrences of swine flu. State officials have taken the precautionary measure of requesting Colorado's allotment of antiviral medication from the federal national stockpile.

More information can be found at www.cdphe.state.co.us or by calling the CO-Help Line at 1-877-462-2911, or at the Center for Disease Control Web site at www.cdc.gov/swineflu.

Comment on "Eagle County health officials warn against complacency in combating swine flu outbreak" using the form below