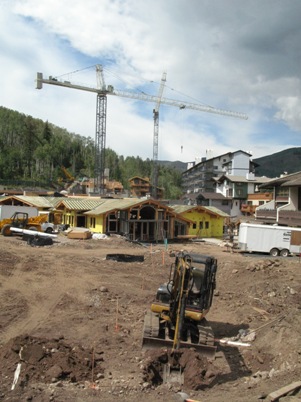 Vail's Front Door project at the base of the Vista Bahn Chairlift is part of an onslaught of construction this summer that some town officials and residents would like to see taxed.
David O. Williams
realvail.com
Debate starts to rage over Vail's proposed construction tax
Community divided over impacts to recent development boom
By David O. Williams
September 5, 2007 — Opponents of a use tax on construction materials headed to Vail's Nov. 6 general election ballot have a punch list of reasons voters should reject the measure.


They claim the 4-percent tax on materials currently exempt from Vail's sales tax could amount to double taxation because builders might have to pay the same tax in other towns.


They argue the new tax will hit hardest the small builders and homeowners looking to renovate who can least afford additional costs in a town steadily losing full-time local residents.


They say the redevelopment boom that is dramatically remaking Vail to the tune of more than $2 billion may start grinding to a halt, or at least slowing dramatically, if developers' costs spike upward significantly. Some say that at the very least builders will be forced to pull back on other public benefits they might otherwise be inclined to finance.


Finally, they contend the tax has not been adequately researched, will pay for unspecified projects, is not part of a comprehensive plan and overall feels a bit rushed.


"It's not that I do or don't think it's a good thing," said Vail Town Council member Kim Newbury, who was absent when the resolution to put the tax on the ballot passed 4-2 on Aug. 21.


"I haven't had enough time to think about. I don't think we've really had the opportunity to see what the impact of the housing policy will be on development, and I think we need to think about it more before we rush into 'let's tax again.'"


Last spring, Vail passed a new ordinance requiring 10 percent of new residential projects to be comprised of affordable housing and requiring commercial developers to provide housing for 20 percent of the new jobs they create.


Town council member Greg Moffet says short-term budget shortfalls in Vail – an estimated $25.8 million over the next five years – makes the new revenue source of the construction use tax mandatory in terms of keeping Vail relevant as a world-class resort town. He adds the tax will not have a chilling effect on development.


"It certainly doesn't seem to have slowed things in Eagle," Moffet said of the Eagle County seat, which along with nearby Gypsum has a construction use tax. "Adding 2 percent to the price of an Arrabelle (at Vail Square unit) on resale will have zero impact on demand."


That 2-percent calculation is derived from the town's own formula, which asserts that approximately 50 percent of the cost of a new project is comprised of materials and 50 percent is labor.


If voters approve the measure the council would then vote on an ordinance to administer the tax, and that lack of detail regarding implementation is what has some builders concerned.


"We need to be responsible and methodical in the things we do, but if were saying 'let's just collect it and figure out what we're going to use it for later,' that's a much less methodical and reasonable way of doing things," said Craig Cohn, who heads up sales and marketing for the new Solaris at Vail residential and commercial project in Vail Village.


Solaris and other projects already approved and in the works would not be impacted by the new tax, but Cohn worries about the impacts of such a tax on families and young homeowners trying to stay in Vail.


"Last year's cause of the day of was bringing families back to town, and my concern is now that we have brought them back to town and they've bought what they can afford, now we've made it cost-prohibitive for them to do what they need to do now that they're back," Cohn said.


He also points out that the way the new tax is proposed, developers would receive a form exempting them from paying sales tax in another jurisdiction once they've pulled a building permit from Vail. The problem with that, Cohn says, is that in today's crazed construction environment, builders must order steel and concrete long before permits are issued, meaning they might be taxed twice.


As it stands, builders who buy from a jurisdiction with sales tax levied on construction materials and have it shipped to Vail do not pay taxes. If Vail passes a tax, jurisdictions such as Avon that do tax materials will not assess those fees if builders can show a permit in Vail, according to Vail town staff.


"I don't see this shutting down development in this community," said Stephen Connolly, an East Vail resident who has announced he's running for one of five vacant council seats in November. "Bottom line is we need infrastructure."


Connolly says the details of the tax can be worked out to most resident's satisfaction, but the key is to pass it in November: "If you've already paid your tax, I'm sure we'll figure out a way to avoid a double tax situation." And he argues more planning will simply derail an invaluable revenue source.


"Do we have a comprehensive plan for anything in this town?" Connolly said. "Waiting for that could take years, and developers are smart enough to get their plans in and avoid this."



Comment on "Debate starts to rage over Vail's proposed construction tax" using the form below