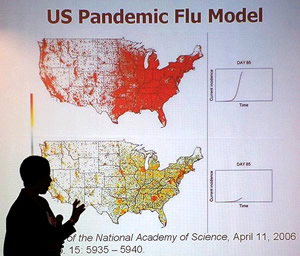 Health workers around the nation are bracing for the big one, and locally Vail Valley Medical Center officials say they're ready if the swine flu comes to Eagle County.
Courtesy of Amadeusmusicinstruction/Flickr
Vail Valley Medical Center officials say they're ready if swine flu hits Eagle County
By realvail.com
April 30, 2009 — Vail Valley Medical Center's Emerging Infectious Disease plans have been activated should cases of the recently identified swine flu be identified in Eagle County. VVMC is collaborating with local and state officials in efforts to educate people on prevention, symptoms and treatment of this strain of influenza.

"While we don't have any identified cases of swine flu in Eagle County right now, it is our job to prepare for an outbreak," Nurse Epidemiologist Heather Gilmartin said. There have been confirmed cases in Colorado, and confirmed fatalities in other places in the United States.

"All of the departments at VVMC have reviewed their emergency plans and have met to discuss the courses of action should this become a problem in the communities that we serve. We are also working with local and state organizations to educate and inform people on how to avoid swine flu and what to do if you think you may have it."

VVMC's collaboration includes working with the Eagle County Public Health Department, Colorado Department of Public Health, Eagle County Public Information Officers and Eagle County School District.

"The swine flu is acting just like seasonal flu and is passed from person to person. It is not spread by pigs or by eating pork," say Eagle County Epidemiologist Becky Larson.

Gilmartin and Larson caution that individuals with mild flu-like symptoms should stay home from work and children and adolescents with a fever should not go to daycare or school until the symptoms resolve. Symptoms of swine flu are similar to those of seasonal influenza including: fever of 100 degrees Fahrenheit, sore throat, cough, stuffy nose, chills, headache, body aches and fatigue. In some cases people have reported diarrhea and vomiting.

Precautions in preventing infection include washing your hands regularly, covering sneezes and coughs and avoiding others with respiratory illness.

"We ask that people who think that they are experiencing flu symptoms notify their healthcare providers by phone before seeking care," Gilmartin said. "We also encourage you to take appropriate actions to prevent the spread of infection. Healthcare services are available throughout the county."

For more information on swine flu visit www.cdphe.state.co.us or call CO-Help Line at 1-877-462-2911. Additional information can also be found at the Center for Disease Control website www.cdc.gov/swineflu.



Comment on "Vail Valley Medical Center officials say they're ready if swine flu hits Eagle County" using the form below