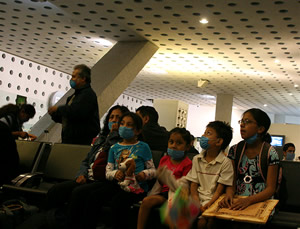 Waiting for flights in the airport in Mexico City, a place hard hit by the so-called swine flu virus.
Courtesy of Citoyen du Monde Inc./Flickr
First case of swine flu confirmed in Eagle County
By realvail.com
May 4, 2009 — Eagle County's Public Health Department is reporting a confirmed case of H1N1 (swine) flu in the county.

The announcement follows testing conducted by the county and the Colorado Department of Public Health and Environment (CDPHE) and confirmation of the results by the Centers for Disease Control and Prevention (CDC). The affected individual is a male in his late teens and is not a student. He was not hospitalized and is recovering.

County Epidemiologist Becky Larson says while the department takes the confirmed case seriously, there is no reason for the public to be alarmed.

"It's important to remember that, so far, H1N1 is affecting people at the same rate and in the same manner as seasonal flu," said Larson. "If you follow basic steps to prevent the spread of the illness, including washing hands frequently, covering your coughs and sneezes and keeping a reasonable distance from those who are ill, there is no reason not to go about your daily business."

People with mild flu-like illness should stay home. Children and adolescents with a fever should not go to child care or school, and adults with a fever should not go to work until they have been symptom-free for at least 24 hours.

The symptoms of H1N1 flu in humans are similar to the symptoms of seasonal flu and may include fever greater than 100°F, sore throat, cough, stuffy nose, chills, headache, body aches and fatigue. If symptoms are severe, individuals should seek the advice of their health care provider. The illness is passed from person to person and is not spread by pigs or by eating pork.

Larson says this is a good time for community members to ensure they are prepared for an emergency that might require staying home for several days. This includes creating a kit with enough food, water and other supplies for a 72-hour period.

The American Red Cross at www.redcross.org and Ready Colorado at www.readycolorado.org are recommended resources. The Web sites provide suggestions on items to include in a household supply kit and tips to develop a family emergency communications plan.

Also, citizens are encouraged to subscribe to EC Alert, which provides immediate and important emergency information specific to Eagle County to all mobile devices including cell phones, pagers and PDAs, or via any email address. The service is free and customizable; text message charges from your cell phone carrier may apply. Visit www.ecalert.org to enroll.

The public health department is working closely with its community partners and the CDPHE to continue to monitor flu-like and respiratory illness activity throughout the county. More information can be found at www.cdphe.state.co.us, or by calling the Colorado Helpline at 1-877-462-2911, or at the CDC Web site at www.cdc.gov/h1n1.

Comment on "First case of swine flu confirmed in Eagle County" using the form below