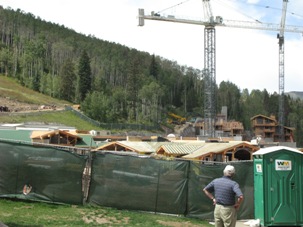 A visitor eyes the Front Door project at the base of Vail's Vista Bahn chairlift. A seemingly endless slate of redevelopment projects has become a hot topic in the Vail Town Council race.
David O. Williams
realvail.com
Redevelopment concerns shape Vail Town Council debate
Connolly, Rogers, Tjossem first three to throw hats in the ring
By David O. Williams
September 7, 2007 — Redevelopment – or more precisely its scale, speed and impacts – will likely be the single-most critical issue defining this November's Vail Town Council race, according to interested observers and some of the candidates. Others disagree.


"Construction and the things related to construction, in terms of housing and parking," will shape this election, said Kaye Ferry, executive director of the Vail Chamber and Business Association. "Everybody wants a breather, a time out. Everybody's sick of not being able to get in and park when they want, where they want."


A total of five council seats are up for grabs Nov. 6, with two incumbents – Mayor Rod Slifer and Greg Moffet – term-limited and therefore ineligible to run. Of the three other incumbents under review by the voters, Kim Newbury and Kevin Foley are running again. Kent Logan did not return calls and emails seeking comment but sources says he will not seek reelection.


Three other Vail residents – Stephen Connolly, Margaret Rogers and Susie Tjossem - had filed affidavits declaring their candidacies as of Friday, Sept. 7, at noon.


Connolly, who served as director of the VCBA for a year and now owns his own sales and marketing company, disagrees with his former boss, Ferry, that a redevelopment backlash will define this election. He says those who want to put the brakes on need to wait for the end product to be completed. He says he's generally supportive of the recent wave of redevelopment.


"Is there a limit on that development? Absolutely. Do I want to see a 15-story monolith in the middle of Vail? Absolutely not, but I don't think anyone does," said Connolly, who went on to discuss the 2005 general election, which saw two council members who opposed the redevelopment of Crossroads – Dick Cleveland and Diana Donovan – voted out.


"Crossroads was a dump. It needed to be redeveloped," said Connolly, who currently serves on the commission for special events. "Is it going to be too big? Obviously I don't think so because I voted for it and supported it. Do I understand the concerns of the neighbors? Absolutely. Do I understand the concerns of the old guard that wants to keep (Vail) small and quaint? Absolutely."


But Connolly said Solaris (the name of the new Crossroads) was necessary in order for Vail to stay relevant as a resort and continue to attract guests. He doesn't agree that this election will see a 180-degree turnaround from 2005 in favor of anti-construction candidates.


"There are a lot of moving pieces to all of our problems and all of our solutions, and there are no black-and-white answers to all of our issues," said Connolly, who worked in fundraising and public relations for Ski Club Vail in the late 1980s and early '90s before moving away to work for sports marketing giant IMG. He returned to Vail in 2000.


Incumbent councilman Foley counters that it's definitely time to catch up on all the projects currently underway and figure out where all of the employees to staff the new retail and lodging will come from and where they will all live.


"I really don't think the Lionshead parking structure redevelopment is needed right now," Foley said. "I would much rather wait and see how thing shake out once we get Manor Vail done, Mountain View Residences, Vail's Front Door, Willows, Solaris, Plaza Hotel, Four Seasons, Arrabelle and the Ritz-Carlton residences. All of those should be open and operating before we even think about doing anything else."


And then he ticks off a list of projects being contemplated that have not yet entered the official approval process: Evergreen Lodge, Vail International, Lionshead Inn, Best Western and Ever Vail.


"So we have all those projects that are under construction or just about to open and all of these other projects that are going to be open in three to four years and I just don't see where they're going to have all the employees to take care of all of these businesses," Foley said.


But Tjossem, a former Vail Resorts and Booth Creek Ski Holdings executive who now heads the Colorado Ski and Snowboard Museum, says the new council can't put the genie back in the bottle.


"Those are all decisions that were made by the previous town council, so the next town council is going to have to manage the decisions that have been made the last five years. The cat's out of the bag," Tjossem said. "I'm pro business and Vail has to do the redevelopment to keep up with its competition. Improving and raising the bar is the nature of the beast out there."


That said, Tjossem said the new council will need to "balance the needs of the town infrastructure, the second homeowners and the full-time residents" with the ongoing building boom. "We're always going to grapple with being a town where people can raise their families and being a resort. It's always been a challenge and always will be. It's how we compromise and see which opportunities best fit Vail."


Incumbent Kim Newbury says the outgoing council has done a pretty good job of balancing those seemingly disparate sets of needs, approving an unprecedented amount of redevelopment but also building parks and recreation facilities for the community.


"We made some really positive strides for the town and it's not just the big things like the Four Seasons and Crossroads," said Newbury, who ticks off projects such as Pirate Ship Park, the memorial park, Big Horn Park, the gymnastics facility, the purchase of the Wendy's for a West Vail fire station, and, most significantly, an affordable housing program it's hoped will ultimately house 30 percent of the town's workforce in Vail. Going forward, she said some checks and balances are necessary to shape redevelopment.


"I'd like us to stabilize the town in general, and I don't mean stop development, but think long and hard about big projects coming onboard that require special development districts and the public benefits (the town should require)," Newbury said.


Rogers is a retired attorney from Chicago who has lived fulltime in Vail for the last 10 years and served on the town's Design and Review Board for the past several years. Her campaign is based on the three-pronged approach of preserving the town's natural environment, its human resources and its physical assets such as roads, bridges and other public facilities. She likens the constant redevelopment to living near an airport in a major city.


"You can get used to it if you live here but it's not the kind of stuff that's going to attract visitors, and I think we need to be very careful with how development proceeds because we don't want to get to the point where people don't want to come here because we're under construction all the time," Rogers said.


Comment on "Redevelopment concerns shape Vail Town Council debate" using the form below