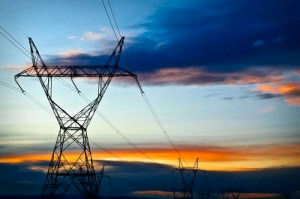 Gov. Ritter is taking heat for supposedly kissing up to electric co-ops that have resisted his New Energy Economy.
Photo/David Kingham, Flickr
'Let's smooch away,' Gov's office says in response to electric co-op kissing criticism
By David O. Williams
May 19, 2009 — The push by environmental groups for Colorado Public Utilities Commission (PUC) oversight of rural electric co-ops (REAs) and the utilities that supply them with power is already shaping up as a key campaign issue in the 2010 governor's race.

Pressured by conservationists to increase the amount of renewable energy it sells to REAs from its current level of 1 percent (72 percent comes from coal-fired power plants), Tri-State Generation and Transmission, the state's second-largest utility, last month announced plans to do just that.

But Denver Post columnist Susan Greene last week called out Democratic Gov. Bill Ritter for acknowledging those plans and praising Tri-State, a cooperative power provider that sells electricity to more than 40 REAs in Colorado, New Mexico, Wyoming and Nebraska. Greene also was critical of Tri-State posting Ritter's comments on its Web site.

"Just weeks before the PUC is set to consider regulations, Ritter in April gave members of the co-op board a big, wet kiss," Greene wrote, adding that a double standard is being established for heavily state-regulated Xcel Energy and the urban areas it serves and Tri-State, which powers largely rural areas where Ritter will be most vulnerable in next year's election.

Ritter spokesman Evan Dreyer Thursday provided this response in an email to RealVail.com:

"Gov. Ritter's New Energy Economy is leading Colorado toward a new energy future by getting utilities, rural co-ops, private businesses and people all across the state to increase renewable energy and energy efficiency. When he sees organizations like Tri-State making progress, he congratulates them and encourages them to do even more. If that's a wet kiss, then let's smooch away."

Despite gains in the last two election cycles — mostly in Western Slope resort counties — rural Colorado remains firmly in the red column, and some rural co-ops, including the state's largest — the Intermountain Rural Electric Association — have bitterly opposed renewable energy standards and conservation mandates.

In order to comply with 2004's Amendment 37, Xcel Energy, the state's largest utility, has upped its renewable portfolio to 10 percent on the way to the legislatively mandated 20 percent level by the year 2020. REAs were not included in Amendment 37, but were subsequently required by the State Legislature to reach 10 percent by 2020.

Efforts by Environment Colorado and other groups to put green candidates on the IREA board and legislatively force the recalcitrant co-op to get closer to Amendment 37's 20-percent mark by 2020 failed last month, leaving some critics to call for PUC oversight of REAs and their election policies.

Rural co-op boards make decisions largely off the mainstream media radar, including the IREA investing $366 million in Xcel's new Comanche 3 coal-fired power plant near Pueblo, But even more enlightened co-ops that do give greater credence to member-owner's push for more renewable power have invested heavily in the comparatively stable base load of coal versus natural gas — a more volatile commodity on the open market.

Holy Cross Energy, which provides power to more than 40,000 members from Vail to Aspen, invested about $100 million in Comanche 3. IREA, which provides power to nearly 138,000 members in mainly suburban and rural areas between Denver and Colorado Springs, invested so heavily in coal because a representative said too much of Xcel's power was coming from natural gas-fired plants.

That investment flies in the face of looming federal legislation that would create a national renewable energy standard and establish either a carbon tax or cap-and-trade system that would more heavily penalize the dirtiest forms of power, like coal.

Greater oversight and transparency for Colorado's REAs seems like a logical step in making sure the entire state is on a level playing field when it comes to Ritter's "New Energy Economy." Whether such a move is politically expedient heading into an election year remains to be seen.

Especially when the first Republican candidate to inadvertently throw his hat into the ring is former six-term congressman and current energy consultant and attorney Scott McInnis, whose power base on the energy-rich rural Western Slope is solidly entrenched.

Comment on "'Let's smooch away,' Gov's office says in response to electric co-op kissing criticism " using the form below