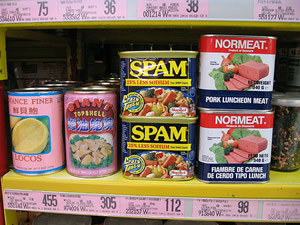 Local towns, county square off in Friday's 'Food Drive Challenge'
By realvail.com
May 28, 2009 — The Eagle County Board of Commissioners is upping the ante for this Friday's county-wide food drive. For every five items donated by an individual at Village Market in Edwards, the board will match the donation with five similar items.

The commissioners are joining elected officials from the towns of Avon, Eagle, Gypsum, Red Cliff and Vail in a "Food Drive Challenge" from 4 to 7 p.m., Friday, May 29. The friendly competition will pit the county and the towns against each other in an attempt to collect the most donations at their local grocery outlets.

"Demand seems to be outpacing our local resources and all of us in the county are doing what we can so that those in need might be less so. The Food Drive Challenge is a great way to promote awareness of the issue, but if you can't make it to the grocery store this Friday, don't let that stop you. You can donate all year round," said commissioner Sara Fisher.

"It's our obligation to help our friends and neighbors in need," said commissioner Jon Stavney. "Obviously, the winners of the challenge will be the food banks and those they serve."

Store assignments for the food drive are: Town of Avon – City Market in Avon; Town of Eagle – City Market in Eagle; Town of Gypsum – Columbine Market in Gypsum; Town of Red Cliff – Wal-Mart in Avon; Town of Vail – City Market in Vail; and Eagle County – Village Market in Edwards.

"Like Old Mother Hubbard, we went to the cupboard and the cupboard was bare," said commissioner Peter Runyon. "It's unacceptable that this should be the case and we, as a community, need to pull together during these tough times to make sure no one goes hungry."

Items that are most needed include tuna fish, pasta and pasta sauce, macaroni and cheese, canned fruit and vegetables, peanut butter and jelly, cereal, rice, beans, soup, granola bars, crackers and pancake mix, as well as self-care items, toilet paper and diapers. Monetary donations also will be accepted.

For more information, contact Kris Friel at (970) 328.8617.

Comment on "Local towns, county square off in Friday's 'Food Drive Challenge'" using the form below