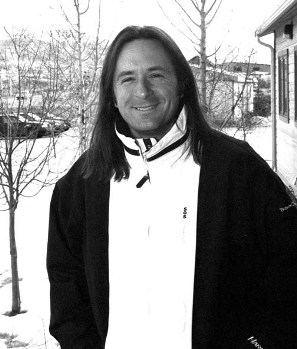 Eagle County Commissioner Arn Menconi, who is mulling a run for State Senate, is the target of a second recall bid since he was first elected to office in 2000.
Dan Davis
trekkerphoto.com
Menconi recall bid stirs more bad political blood in Eagle County
Observers call for less heated rhetoric, dirty tactics
By David O. Williams
September 17, 2007 — Fall is in the air in the Colorado high country, snow is dusting the high peaks, and a big chill has settled over the local political scene.


Regardless of whether a group calling itself the Committee to Recall Arn Menconi gathers enough valid signatures by the Tuesday (Sept. 18) deadline and forces a special election, observers on both sides of the political fence say the ongoing ugliness is costing Eagle County voters viable candidates.


"To be a politician now you have to have skin as thick as a rhinoceros; I think it would be really tough, and I don't see how politicians do it," said Randy Milhoan, chairman of the Eagle County Republicans, who adds his party has nothing to do with the current recall effort. "I'd like to see the discourse be more civil."


Mike Reid, a Vail resident who is chairman of the Committee to Recall Arn Menconi, did not return numerous calls requesting comment.


"I had a conversation with Mike Reid before they filed and he assured me and practically promised me that this would not be personal and that it was only about funding early childhood development," said Menconi, a Democrat and an Eagle County commissioner since 2000.


"But it has been nothing but a smear campaign to malign my name and work as a commissioner," Menconi said. "This is not just about early childhood development, and if it was merely about that, as I said to Mike Reid, I would have welcomed the dialogue."


Reports on the impetus for the recall in the local media have zeroed in on Menconi's recent support for the county-funded Bright Start early childhood development program despite the defeat last November of a tax increase to pay for such programs. His critics say Menconi is flaunting the will of the people, although Bright Start was also supported by the other two commissioners.


"If a vote lost for the fire department or for open space, does that mean that government can never invest in these things again?" Menconi said. "These people are gutless and they've lowered the integrity of politics in Eagle County."


Even some registered Republicans agree, pointing to a pattern of dirty politics being perpetrated by a radical fringe of the local Republican Party dating back to the 2006 general election, when Democrats dominated.


"It makes me very angry that a very few people are driving a particular agenda and it's devolved from the politics of ideology to just plain hate," said Don Cohen, a self-described moderate to liberal Republican who claims he's voted the GOP ticket for president every election dating back to Richard Nixon (with the exception of one vote for Ross Perot).


Cohen says he went to a meeting of the local Republican Party in January to help devise a political strategy for returning the party to prominence in Eagle County and was shouted down for his views.


"I'd like to believe these people will burn themselves out and move on, but not before they do a lot of damage to the soul of the community," said Cohen, who is executive director of the Economic Council of Eagle County and says he is continually asked if he'll run for the seat being vacated by Menconi due to term limits in 2008.


"My truest feeling and my official statement is I would prefer, and feel most effective, working outside of the commissioner's office than being inside," said Cohen, acknowledging recent smear tactics may chase away viable candidates. "I have a lot thicker skin than my wife does, but she looks at how brutally vicious this stuff is getting and I don't think she want to have to go to City Market and have to hear it all."


Cohen says Menconi does bring some of the heat on himself by having such strong convictions and fighting so hard for his causes: "Arn just has a personality that in a lightning storm I don't want to be anywhere near him, because you know who's going to get hit."


Reid's petition drive to put Menconi's recall on a special election ballot by the end of the year must successfully gather 4,367 valid signatures of registered Eagle County voters by 5 p.m., Tuesday, Sept. 18. Regardless of the outcome, Milhoan said he would like things toned down a bit in the local political arena.


"There are some things that are overarching that effect us all, whether you're a Democrat or Republican or an independent, and we all need to focus in on them, and then there are going to be some things that we all just disagree on, and when that happens I think we all need to be civil about it," Milhoan said.


According to Eagle County Clerk and Recorder Teak Simonton, in a recall process "that's as clear as mud," her office has 10 days to verify signatures and then there are 15 days allowed for a protest. If the signatures are validated, the commissioners must set a special election date 45 to 75 days from original date of sufficiency.


Comment on "Menconi recall bid stirs more bad political blood in Eagle County" using the form below