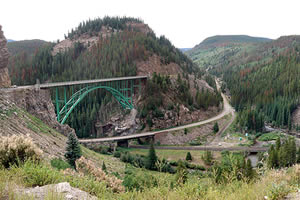 Beetle kill mitigation work began this week in the town of Red Cliff off the backside of Vail Mountain.
Courtesy of K_Gradinger, Flickr.com
Eagle County, state forest service team up with Red Cliff to battle beetle kill
By realvail.com
June 10, 2009 — The historic Eagle County mining town of Red Cliff took a step toward preserving itself Monday when crews began creating a defensible space for fighting wildfires by cutting down trees killed by the mountain pine bark beetle.

Eagle County, in cooperation with the Town of Red Cliff and the Colorado State Forest Service, is working to clear pine beetle infested trees from the area around Red Cliff.

The project will help establish a viable fuel break and provide protection in the event of a wildfire. Crews began cutting and removing trees near the town cemetery on Monday, with work scheduled to last about three weeks. Work will be conducted between 7 a.m. and 7 p.m. Monday through Friday and from 9 a.m. to 4 p.m. on Saturdays.

"The cemetery is a valuable historical site in Eagle County with gravesites dating back over 150 years. This project provides us with the opportunity to protect the town from wildfire as well as preserving the final resting place of many of the county's earliest residents," said Eric Lovgren, the county's wildfire mitigation manager. "One of the challenges will be to safely remove the trees while leaving the cemetery intact."

The goal of the project is to remove dead and dying lodgepole pine trees from a seven-acre area between the town and surrounding forest. The cemetery has been in existence since 1879, and the dying trees are located in close proximity to the historical site. Wood from the trees will be used to help renovate the cemetery fencing and gates and will also be made available as firewood to Red Cliff residents.









Comment on "Eagle County, state forest service team up with Red Cliff to battle beetle kill" using the form below