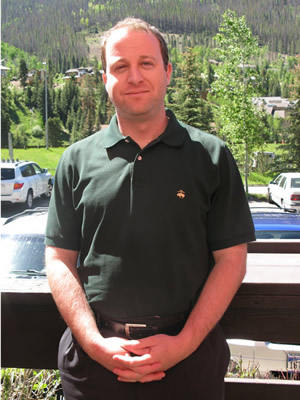 U.S. Rep. Jared Polis, D-Boulder, is scheduled to help with the Fox Hollow project for Habitat for Humanity in Edwards Saturday.
By David O. Williams
U.S. Rep. Polis, state Rep. Scanlan to pound nails at Habitat for Humanity project in Edwards
By realvail.com
June 17, 2009 — Congressman Jared Polis (CD-2) and state Rep. Christine Scanlan, D-Dillon, plan to pick up a hammer for Habitat for Humanity Saturday in Edwards to highlight the critical need for affordable housing in the community.

Habitat for Humanity of Eagle & Lake Counties will be hosting its 3rd annual Habitat Builds Colorado Day at the Fox Hollow job site Saturday, June 20, marking the third year that elected officials will join in affordable housing projects sponsored by Habitat for Humanity.

"The volunteer spirit is an essential part of American society, and I am glad to see it's alive and well in Eagle County's Habitat for Humanity," said Congressman Jared Polis.

"Growing up in a safe, stable home environment helps children to excel at school and succeed in life. Habitat for Humanity is an important part of helping families with affordable housing and I look forward to building with them Saturday."

Habitat Builds Colorado Day will take place Saturday, June 20, 9 a.m. to 12:30 p.m. at the Fox Hollow job site in Edwards (left on Fox Hollow drive, 1.5 miles west of the Gas House off of U.S. Highway 6).

The event will begin at 9 a.m. with remarks by Congressman Polis, followed by an opportunity to work alongside Habitat partner families on the construction of their homes. The event is open to the public.

"Affordable housing is a complex problem that requires diverse solutions, especially in Colorado's resort communities where property values make mortgage payments unaffordable for employees and professionals. Habitat wants to showcase our model for creating affordable, sustainable homeownership opportunities," said John Welaj, Executive Director.

"Our family partners are extremely well prepared to become homeowners, contribute hundreds of hours in labor to build their homes, and purchase those homes with a no interest mortgage."

This event is part of a statewide campaign led by Habitat for Humanity of Colorado to advocate for increased funding and opportunity for affordable housing.

Habitat for Humanity of Colorado supports 31 Habitat affiliates statewide in creating safe, decent, affordable homeownership opportunities in partnership with families who would otherwise not be able to realize their dream.

Having successfully completed 1,000 homes in Colorado last November, housing 5,000 individuals, Habitat for Humanity of Colorado is striving to build 1,000 more homes in just three years.

To attend or for more information, RSVP or contact Elyse Howard at elyse@habitateaglelake.org, or call (970) 748-6718.

Comment on "U.S. Rep. Polis, state Rep. Scanlan to pound nails at Habitat for Humanity project in Edwards" using the form below