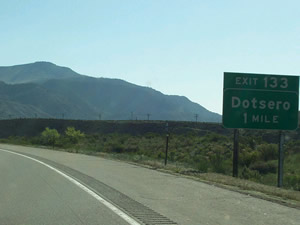 First county planning meeting for Dotsero on tap; Eagle-Vail RFQ nets 20 firms
By realvail.com
June 24, 2009 — The first in a series of meetings intended to guide the creation of a new community plan for the Dotsero area will take place from 5:30 to 7:30 p.m., Thursday, June 25 in the Gypsum Town Council Chambers, located at 50 Lundgren Blvd. in Gypsum. Members of the public are encouraged to attend.

As a chapter of Eagle County's Comprehensive Plan, the Dotsero Area Community Plan will provide information and policies to help guide land use and site design in the greater Dotsero area.

According to Cliff Simonton, senior planner for Eagle County, input from property owners and concerned citizens will be invaluable.

"We will be striving to create a plan that is as realistic and comprehensive as possible," said Simonton. "County staff will provide a brief presentation and will then facilitate a discussion designed to identify opportunities, constraints, desires and concerns in the area."

Additional community meetings are planned for later in the summer to review alternatives and to further refine goals and policies to be included in the plan. A working draft of the document is expected to be complete by the end of the year.

Contact Simonton at (970) 328-8751 or at clifford.simonton@eaglecounty.us for more information.

In other community planning news, Eagle County has received 20 responses from land planning teams interested in assisting with creation of a master plan for the Eagle-Vail commercial area.

The deadline for responses to the county's request for qualifications (RFQ) was 5 p.m. Friday, June 19.

The submittals are as follows (in alphabetical order):

· bluegreen, Aspen

· Braun Associates, Inc., Edwards

· Britina Design Group, Arvada

· Clarion Associates, Denver

· Design Workshop, Inc., Aspen

· Dunn & Kiley (w/ NAKA Designs), Denver

· EDAW/AECOM, Fort Collins

· Fritzlen Pierce Architects, Vail

· Gage Davis Associates, LLC, Denver

· Isom & Associates, Inc., Eagle

· klipp (w/ Pylman Associates, Inc.), Denver and Edwards

· Knight Planning Services, Inc., Eagle

· LMN Architects, Seattle, Wash.

· Mauriello Planning Group. Avon

· Norris Design, Denver

· Shapins Belt Collins, Boulder

· Stan Clauson Associates, Inc., Aspen

· URS, Denver

· Vail Architecture Group, Avon

· Zehren and Associates, Avon

The master planning process will establish a vision for the area, along with goals, objectives and strategies to guide the coordinated redevelopment of properties over time.

Responses to the RFQ will be reviewed by county staff, followed by interviews of short-listed firms, if needed.

For more information, contact Scot Hunn with Eagle County Community Development at (970) 328-8624 or scot.hunn@eaglecounty.us.

Comment on "First county planning meeting for Dotsero on tap; Eagle-Vail RFQ nets 20 firms" using the form below