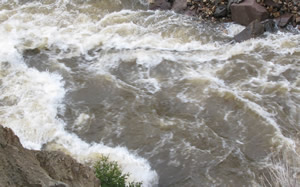 Vail's Gore Creek is still running very high due to a wet spring, and Sunday it claimed the life of a toddler who fell in while on a family walk.
By David O. Williams
Boy who died in Vail's Gore Creek Sunday identified as Colin Cassidy of Edgewater
By realvail.com
June 29, 2009 — A toddler whose body was recovered from Gore Creek in Vail Sunday morning was identified by Eagle County Coroner Kara Bettis two-and-a-half-year-old Colin Cassidy, of Edgewater, Colo. The cause of death had not been released Sunday evening pending an autopsy.

Colin's mother, Sara Cassidy, called 911 at 9:55 a.m. to report Colin's disappearance while on a walk along a recreation path that runs parallel to Gore Creek. Sara Cassidy was tending to Colin's baby sister during their walk when she noticed Colin had disappeared. No one saw the toddler enter the creek.

The boy's body was found approximately one mile downstream at 10:17 a.m. when a construction worker from the Ritz-Carlton pulled the toddler from the stream east of the Cascade Resort. Two passersby administered CPR on the toddler until paramedics arrived. The boy was transported to Vail Valley Medical Center where he was later pronounced dead.

The family, including the boy's father, Chris Cassidy, had been in Vail attending a lacrosse tournament.

Responding agencies included Vail Police, Vail Fire and Emergency Services and Eagle County Ambulance District.

Gore Creek and other local creeks and rivers are running very high and fast after a prolonged and extremely wet spring. Authorities around the state are warning people to exercise extreme caution near any moving water this time of year.

3 Comments on "Boy who died in Vail's Gore Creek Sunday identified as Colin Cassidy of Edgewater"