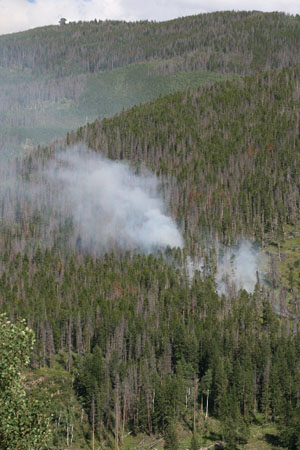 Fire crews were already on the scene at the small wildfire which broke out today in West Vail between Matterhorn and Intermountain. The area is considered one of the most heavily affected by the beetle-kill epidemic, and contains a large concentration of dead-standing lodgpole pines.
Photo by Tom Boyd
Wildfire breaks out in national forest above West Vail
By David O. Williams
August 7, 2009 — Firefighters, including a slurry bomber and a helicopter dropping retardant, responded aggressively to a small fire that broke out in the national forest above West Vail late Friday afternoon.

"The fire is at about an acre and we do not know a cause or point of origin," said Eagle County Sheriff's Department spokeswoman Shannon Cordingly. "Vail Resorts is evacuating people down the gondola, just as a precaution at this point."

More than 63 firefighters from the U.S. Forest Service, Vail Fire Department, Eagle River Fire Protection District, Greater Eagle Fire Department and Bureau of Land Management battled the small blaze, dubbed the Stephens Park Fire, which was still zero-percent contained as of 7 p.m.

At 6:08 p.m. a slurry bomber from the Grand Junction Air Center dropped a huge load of bright-red retardant on the blaze, while a helicopter from Rifle Helitack did multiple drops of both retardant and water from the Vail Resorts snow-making reservoir beginning before 5 p.m.

Firefighters had hiked to the small blaze burning on a steep ridge in the dense and largely dead lodgepole pine forest above Stephens Park in the Intermountain neighborhood a couple of miles west of the western edge of Vail ski resort.

It's an area above the defensible-space zone the Vail Fire Department has been establishing by thinning dead trees the last several years in conjunction with the U.S. Forest Service and Eagle County.

The fire was burning in an area with a massive fuel load because of the ongoing mountain pine beetle epidemic. And high winds and temperatures in the 80s put the fire danger at high this weekend in Eagle County.

For more on what the Vail Fire Department has done to prepare for a catastrophic wildfire, check out a 2008 RealVail.com story detailing tactics and techniques wildland firefighting crews will employ. Also see www.realvail.com/realnews/310.


Vail Resorts was evacuating people off the ski mountain purely as precaution because the top of the Eagle Bahn Gondola is a popular Friday Afternoon Club (FAC) destination.


A dispatcher for the Vail Fire Department said at 4:40 p.m. "nothing is under control at this point," confirming that the blaze was on national forest land.

Check back with RealVail.com as more details become available.

2 Comments on "Wildfire breaks out in national forest above West Vail"