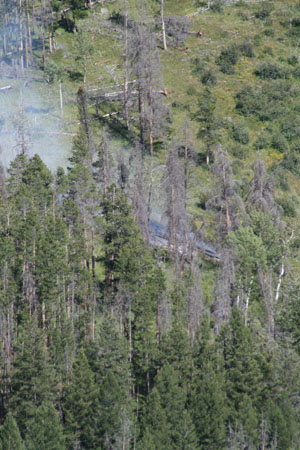 A small wildfire above Intermountain as seen from Davos Trail. Officials called it 60-percent contained as of 8 p.m.
By Tom Boyd
West Vail Fire 60-percent contained; crews to resume suppression efforts Saturday
Vail Mountain set to resume normal operation Saturday after evacuation Friday
By David O. Williams
August 7, 2009 — A small wildfire that broke out around 4 p.m. Friday afternoon, forcing the evacuation of Vail Mountain, was deemed 60 percent contained at 8 p.m., according to emergency response officials.

First dubbed the Stephens Park Fire because of its proximity to the town park in Intermountain, but later named the West Vail Fire, the one-acre blaze never threatened any structures or forced the evacuation of surrounding homes, but it did spark community concern given high winds, high fire danger and hot temperatures.

At one point more than 60 firefighters from numerous agencies, including the Forest Service, BLM, Vail Fire Department and Eagle River Fire Protection District, as well as a slurry bomber out of Grand Junction and a helicopter out of Rifle, battled the stubborn blaze in the dense and mostly dead lodgepole pines on national forest land between West Vail's Matterhorn and Intermountain neighborhoods.

Crews walked down off the mountain around 8:30 and will return Saturday morning to fully suppress the fire, according to the Eagle County Sheriff's Office. Operations will resume at 7 a.m. Fire officials expect approximately 34 firefighters, plus support staff Saturday.

The Vail Fire Department has worked with Eagle County to create defensible space in the wildland urban interface (WUI), the area where homes and other community resources meet the forest. While the West Vail Fire is high above the WUI, it is located above a buffer zone that was created as part of the Vail Valley Forest Health Project over the last few years.

Vail Resorts, which was advised by the Town of Vail to evacuate the ski mountain late Friday afternoon as a precaution, is expected to resume normal summer operations on Saturday if fire officials give the OK.


Comment on "West Vail Fire 60-percent contained; crews to resume suppression efforts Saturday" using the form below