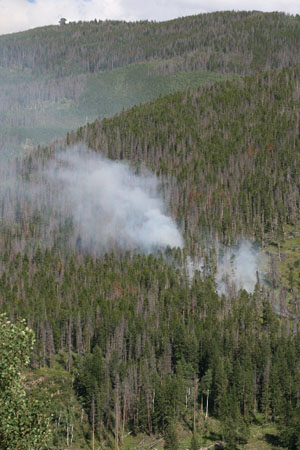 A small fire broke out in the national forest between the West Vail neighborhoods of Matterhorn and Intermountain Friday, burning about an acre before crews, including a helicopter and slurry bomber, snuffed it out.
By Tom Boyd
West Vail Fire completely contained; Vail Resorts resumes normal business operations
By realvail.com
August 8, 2009 — The West Vail Fire that broke out late Friday afternoon was declared 100 percent contained at about noon Saturday.

More than 30 firefighters took to the fire Saturday morning and with more helicopter support were able to contain the blaze that was reported at 3:51 p.m. Friday.

One acre of lodgepole pine forest was burned on national forest land above West Vail. The cause of the fire has not been determined.

Participating agencies Saturday included the Town of Vail Fire and Police Departments, U.S. Forest Service, Bureau of Land Management, Juniper Valley Fire Crew, Eagle County Sheriff's Office and Vail Mountain Security.

Personnel will remain on site throughout the weekend to maintain control of the area and ensure public safety. Nearby Stevens Park and surrounding trails in West Vail will remain closed until all operations have been completed.

Vail Resorts, which evacuated Vail Mountain as a precaution Friday evening, resumed normal summer business operations Saturday at 10 a.m.

Comment on "West Vail Fire completely contained; Vail Resorts resumes normal business operations" using the form below