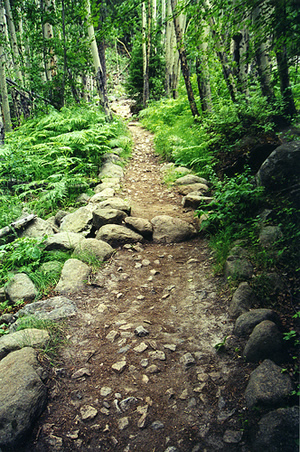 Colorado roadless rule key to wildfire mitigation, ski-area expansion, state says
Conservationists cheer appeals court ruling in favor of highly protective Clinton-era rule
By David O. Williams
August 10, 2009 — While conservation groups called last week's federal appeals court decision reinstating the Clinton-era roadless rule a major victory, the state of Colorado contends its own revised rule is still a far more practical way of managing the state's 4.2 million roadless acres.

Mike King, deputy director of Colorado's Department of Natural Resources, said Wednesday that the 2001 Clinton rule, which provided sweeping protections against road building on nearly 60 million acres of largely undeveloped public lands nationwide, did not take into consideration wildfire mitigation or other critical economic drivers.

"In Colorado in 2001, we didn't have a bark-beetle epidemic, and now we find ourselves eight years later with at least 2 million, and maybe more like 2.5 million, acres of dead trees," King said. "Many of these acres are adjacent to communities, and the risk of catastrophic wildfire has increased exponentially as a result."

The Bush administration quickly tossed out the Clinton rule in 2001 and four years later allowed states to petition for their own roadless rules. Only Idaho and Colorado went that route, with Idaho adopting its own set of rules late last year.

Colorado's draft rules, released in 2008, were formed by a task force with extensive public input over a period of two years, but it has been slowed by critics charging that it allows far too many road-building exceptions for energy extraction, water and power infrastructure, logging and ski-area expansion. It was also stalled in the transition between the Bush and Obama administrations.

Gov. Bill Ritter's administration last week issued a revised version of its 2008 draft, drawing jeers from environmentalists. But Wednesday, the San Francisco-based 9th U.S. Circuit Court of Appeals issued a ruling upholding a 2006 U.S. District Court decision that reinstated Clinton's Roadless Area Conservation Rule and threw out the Bush administration's State Petitions Rule.

"Today is a victory for one of the most important land protection measures of the decade," Jane Danowitz, director of the Pew Environment Group's U.S. public lands program, said in a statement. "It is now up to President Obama to fulfill his pledge to permanently protect our unspoiled forests by resurrecting the [2001 Clinton] Roadless Rule."

Colorado had been operating under the notion that the 2001 rule was permanently enjoined in the state and that the U.S. Forest Service could not use it to manage public lands in Colorado.

Rob Vandermark of the Pew Environment Group disagreed with that reading of earlier court decisions, instead arguing that injunctions by lower courts were only in effect pending appeals.

"Today's decision by the higher court … affirmed [District] Judge Laporte's ruling that the Bush administration unlawfully repealed the 2001 roadless rule and reinstated the 2001 rule nationwide," Vandermark said. "Today's ruling means that the U.S. Forest Service is now bound by the provisions of the 2001 rule on lands it manages in all states — except Idaho and within Alaska's Tongass National Forest."

According to a spokeswoman, Pew wants Obama to affirm that the 2001 rule applies in Colorado and suspend the state rulemaking process in favor of a permanent national rule. King said the state doesn't oppose a national rule but wants to ensure the Colorado rule is incorporated into it because of revisions for special circumstances.

In the 2008 draft Colorado rule, for instance, King said conservationists were concerned that language on logging road exceptions was too broad and could allow local officials to declare an entire county high risk under the Healthy Forest Restoration Act and set up a Community Wildfire Protection Plan in order to land a timber mill in the county.

So in its revised version, the state shored up that language to allow fairly unfettered thinning within a half mile of towns and then public review as part of a Community Wildfire Protection Plan process — as allowed under state Senate Bill 1, which went into effect Wednesday — for public lands between a half mile and 1.5 miles of town.

"I've had candid conversations with many environmentalists who say, 'We know that when the Obama administration takes up this issue at the national level there will have to be some accommodation for fuel treatment because of [the fire] issue in Colorado and other western states,'" King said. "So we think the question of does there need to be some flexibility for fuel treatment is a no-brainer and it's a foregone conclusion."

King said two other exceptions for temporary road building include 29,000 acres on the North Fork of the Gunnison River for coal mining and ski-area expansion on roadless areas within existing resort permits — about 8,000 acres spread over 11 existing ski areas.

"Those are two examples of narrowly tailored exceptions that we can do on a state analysis that the national rule would never give you the ability to do," King said, adding both industries are critical to the economy of the entire state.

Comment on "Colorado roadless rule key to wildfire mitigation, ski-area expansion, state says" using the form below