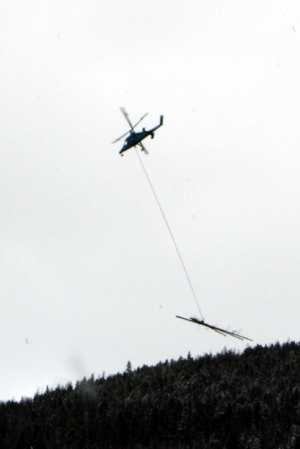 A helicopter moves dead timber away from a West Vail neighborhood as part of the massive Vail Valley Forest Health Project. This particular part of the project is being paid for by the Town of Vail, Eagle County, and the U.S. Forest Service.
Photo by Tom Boyd
Could California-type wildfires happen in Vail?
There's no comparison, say officials
By Tom Boyd
October 23, 2007 — The thumping sounds of dual-rotor helicopter blades have been filling the skies above West Vail all week, and with good reason: Eagle County, the Town of Vail, and the U.S. Forest Service have combined powers to help create "defensible space" around West Vail neighborhoods which could be in serious fire danger.


Pine beetle epidemic has killed as much as 80 percent of trees in some sections of Eagle County's pine forests, and foresters say the dead trees, once they've fallen to the ground, could create tremendously high fire danger in our area sometime in the next 5 to 20 years.

As images of the conflagration in Southern California fill television screens, here in Vail a helicopter has been working from dawn to dusk to carry heavy timber from steep hillsides – inaccessible by road – from one West Vail neighborhood, thereby creating a 200-to-300-yard wide defensible space that could provide firefighters with a more advantageous firefighting position if and when a big blaze hits Vail.

But make no mistake: California and Colorado wildfires may look the same to the layman, but they are very different in the eyes of Forest Ranger Cary Green, Timber Management Assistant at the Minturn Ranger District.

"It's really hard to compare the two situations," he said. "There are two totally different cover types, the fire intervals are totally different … our fires could get up and go but perhaps not (as fast as) what you'd see in California."

Both kinds of fires, however, can be extremely dangerous and destructive to man-made property, and officials from the Town of Vail, Eagle County, and the Forest Service signed the Vail Valley Forest Health Project in 2005 to help mitigate – and possibly prevent – a fire disaster from occurring in Eagle County.

The current project between Matterhorn and Intermountain in West Vail is expected to continue through this week for a total of seven days of helicopter flying time, with possible controlled burns to take place afterward. Green said the effort won't prevent a disaster from occurring, but it will at least give firefighters and homeowners a leg up if a fire were to break out in that area.


Comment on "Could California-type wildfires happen in Vail?" using the form below