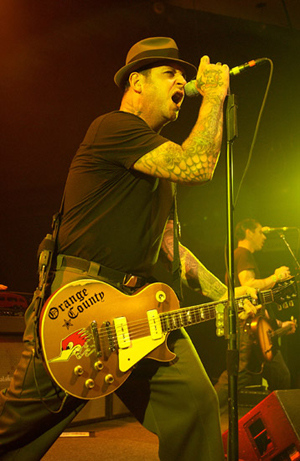 Mike Ness, lead singer of Social Distortion, should help light up the weekend of Dec. 6-8 during Vail Snow Daze.
Photo courtesy Highline Sports and Entertainment
vailsnowdaze.com
Ludacris, The Roots, Social Distortion and Ziggy Marley come to Vail in December
Promoters call this year's Snow Daze concert lineup best yet
By realvail.com
November 6, 2007 — Social Distortion, the iconic punk rock band definitive of the Southern California punk scene since the late 1970s, was added to the Dec. 7 slot of this year's Vail Snow Daze musical lineup. The annual concert extravaganza will also feature Ludacris and The Roots on Dec. 8, and Ziggy Marley Dec. 6.


The weekend of music will be part of a weekend of events, including a fashion show, on-snow action like rail jams and bonfire parties, as well as an expo in the Village and street and bar parties.


The addition of Social Distortion has led organizers to call this year's lineup, "the most powerful line-up of the event's history."

Snow Daze deals, tickets, schedule, etc...
• Snow Daze Festival Concert Passes are available for $72.50 (early purchase), or $97.50 after Nov. 30
• Snow Daze lodging deal available, call (800) 525-2257

• SCHEDULE
• Dec. 7, 7 p.m.: Social Distortion, Dobson Arena in Vail, all-ages show ($25 in advance, $35 after Nov. 30)
• Dec. 8: Ludacris and The Roots, Ford Park ($40 in advance, $50 after Nov. 30)
• Dec. 6: Ziggy Marley and the Melody Makers, Dobson Arena, all-ages show ($25 in advance, $35 after Nov. 30

For more info see www.vailsnowdaze.com

"Social Distortion is a sold-out show nearly every place they play," said Jeff Brausch, President of Highline Sports & Entertainment, the event's promoter. "Bringing them on board for a week of music and on-snow activities that includes Ludacris, The Roots and Ziggy Marley is just one example of what makes Vail North America's #1 ski and snowboard destination and how iconic Snow Daze has become as Vail's early season party."


Festival concert passes are also available this year, something new to the event.


Festival passes and individual concert tickets for all Vail Snow Daze concerts are on sale now at www.vailsnowdaze.com. Vail Valley residents can also purchase Ludacris and The Roots tickets at Cork & Bottle in Edwards and the Marketplace on Meadow Drive in Vail.


Vail Snow Daze happens because of support from Vail Resorts, Coors Light, Volvo, Town of Vail, Mountain Dew Amp and Skiing Magazine and is sponsored in part by Salomon, Nau, Vail Daily, KVBA, TV8 and KZYR The Zephyr.


Comment on "Ludacris, The Roots, Social Distortion and Ziggy Marley come to Vail in December" using the form below