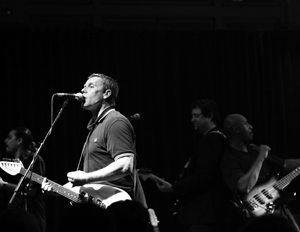 Ska legends, the English Beat, get the free Street Beat concert series rolling Dec. 19 at Checkpoint Charlie in Vail Village.

Street Beat is back with fewer shows but better lineup
English Beat kicks off free Vail Village concert series Dec. 19
By realvail.com
December 12, 2007 — The annual Bud Light Street Beat free winter concert series is back for another season starting Dec. 19 in Vail Village, with better bands, twice as many cars to give away and an í80s favorite, English Beat, kicking things off at Checkpoint Charlie.


The British ska legends crank it up starting at 6 p.m., Wednesday, Dec. 19, and everyone in attendance can enter to win a Volvo at the kickoff show.


This seasonís series has gone monthly in order to bring in higher-caliber performers, and includes six big-name concerts, from the English Beat to Colbie Caillat in April. All shows are free and begin at 6 p.m. at Checkpoint Charlie in Vail Village.


January features Squirrel Nut Zippers, February brings Stockholm Syndrome, and March kicks it with the Young Dubliners. Two springtime concerts round out the series on April 2 with the John Popper Project featuring DJ Logic and April 9 with Colbie Caillat.


This seasonís series kicks off with a chance to win a 2008 Volvo C30, given away at the inaugural concert on Dec. 19. Additionally, locals can register each month to win another grand prize of a 2008 Volvo C30. Out of town guests can register monthly to win a trip in the Volvo Vail grand prize guest giveaway return vacation with deluxe accommodations. Both of those grand prizes will be given away at the final concert in Vail Village on April 9.


Dress warmly because the shows are all outdoors and proceed regardless of the weather. Food and drink are available for purchase at each show, and free parking is offered in Vail Village and Lionshead parking structures after 3 p.m.


The 2007-08 Bud Light Street Beat is a project of the Vail Valley Foundation. For more information, or to volunteer for the Street Beat series, visit streetbeatconcerts.com or call (970) 949-1999.


2007-2008 Bud Light Street Beat Concerts:


Dec. 19: The English Beat


Jan. 16: Squirrel Nut Zippers


Feb. 20: Stockholm Syndrome


March 19: Young Dubliners


April 2: John Popper Project with DJ Logic


April 9: Colbie Caillat


Comment on "Street Beat is back with fewer shows but better lineup" using the form below