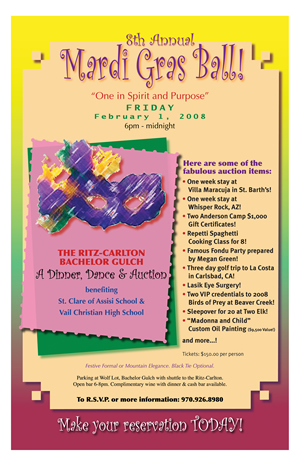 The 8th annual Mardis Gras Ball at the Ritz-Carlton is just one of the many events going on between now and Fat Tuesday.
Special to realvail.com
CarniVail brings Mardis Gras to the mountains
While 8th annual Mardis Gras Ball rocks the Ritz
By realvail.com
January 31, 2008 — With nearly of 20 feet of snow blanketing Vail so far this season, it's tough to be transported to sunnier, swampier southern climes. But CarinVail, the Vail Valley's annual Mardis Gras celebration, asks powder-weary snow riders to break out the beads and make the mental leap.


Starting Sunday, Feb. 3, CarniVail kicks off with après ski bar parties and traditional New Orleans live bands playing throughout Vail Village. The good times continues through Tuesday, Feb. 5, with on- and off-mountain events worthy of New Orleans' biggest and best party.


CarniVail brings Mardi Gras to the mountains with the Highest Low Country Crawfish Boil and a Fat Tuesday Parade with a float contest and yet-to-be crowned CarniVail King and Queen. Also, special guest "ET" of the Dirty Dozen Brass Band, performs at different venues throughout Vail Village over the three-day span.

Mardis Gras Ball at the Ritz
For a more sophisticated Mardis Gras party – and one that benefits a pair of local school - the Ritz- Carlton, Bachelor Gulch, is the place to be on Friday, Feb. 1 for the 8th annual Mardi Gras Ball, a lavish cocktail dinner dance and auction that raises much-needed funds for Vail Christian High School (VCHS) and St. Clare of Assisi Elementary School in Edwards.

"Monies raised go directly to the operating funds of the schools," said Adam Leseur, St. Clare parent and co-chair of this year's event. "Our schools are healthy and growing, thanks in large part to the Mardi Gras Ball."


Parents solicit live and silent auction items, sponsorships and other support, and assist with the production of the event. Last year's ball raised $300,000. The black-tie optional event is well known as a fabulous party and colorful celebration.


Auction items include a "Madonna and Child" custom oil painting, Lasik eye surgery, a fur coat, trips to La Costa Spa, Wisp Rock, Ariz., and St. Barth's, a slumber party for 20 at Two Elk, and much more.


Tickets to the Mardi Gras Ball are available for $150 each, and tables are still available. Tickets will also be sold at the door on Feb. 1. Contact Adam Leseur at aleseur@centurytel.net or Kim Schramm at kaschramm@hotmail.com to make reservations.


The Fat Tuesday Parade will feature two contests this year: one awarding monetary prizes to the top three floats and the other crowning the CarniVail King and Queen. The float contest is open to the public, with floats arriving for set-up at 2 p.m. and touring Vail Village beginning at 4 p.m.


After the parade, judges will name the top three floats in terms of creativity and design. First place will be awarded $1,000, second place receives $500, and third place winners get $250. Visit http://www.carnivail.net/floats.html for more details and to download a float entry form. All floats must be registered by Friday, Feb. 1. For additional information, contact Amy at info@gohighline.com.


All events are free of charge and open to the public, except for Monday's Crawfish Boil at Eagle's Nest, where guests can get a pound of crawfish for $14.95. For more details about CarniVail events, parties, and contests, visit www.carnivail.net or call (970) 476-9090.
Below is the complete schedule of all CarniVail events, including all scheduled band performances and community contests:


Sunday, Feb. 3


2–5 p.m. - New Orleans-style celebration at the Vail Chophouse


3-5 p.m. - Après Ski Party at The George


10 p.m. - Legendary Blues Man Tab Benoit at Samana Lounge


Monday, Feb. 4


Noon-2:30 p.m. - World's Highest Low Country Crawfish Boil with Little Hercules at Eagle's Nest on Vail Mountain


3-5 p.m. - Mask-erade Party with "The Pride of New Orleans" Henry Butler at the Arrabelle at Vail Square


10 p.m. - Post party featuring the Tony G All Stars at Samana Lounge


Tuesday, Feb. 5


2-5 p.m. - Fat Tuesday Street Party with the New Orleans Mardi Gras All Stars in Vail Village


5-6 p.m. - Fat Tuesday Parade in Vail Village


Comment on "CarniVail brings Mardis Gras to the mountains" using the form below