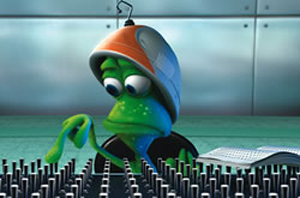 Animated films will now have a distinguished place at the Vail Film Festival, coming to town April 3-9.

Momentum builds for Vail Film Festival
By realvail.com
March 10, 2008 — News and notes from the upcoming Vail Film Festival are beginning to roll into realvail headquarters, as the Festival, which takes place April 3-6, approaches.


Organizers recently introduced the first-ever Vail Film Festival Reel Quick 48 Hour Film Contest.


They also announced the winners of their second annual screenplay competition as well as a brand new program category, the Esurance Animation Showcase.
Reel Quick 48 hour film competition

This year the Festival is launching the Reel Quick 48 hour film competition, which challenges filmmakers to create a film during the festival within a 48-hour time frame. The Festival will accept the first 15 teams registered to compete, and all films turned in on time will be screened on Saturday, April 5th. The winning filmmaker will receive the complete Final Cut Pro Studio 2 package, an Epson 1080p projector, passes to the 2009 festival, and automatic acceptance of their next short film into the 2009 festival. Total prizes valued at $8,000. Visit the website for rules on the competition and to register for the Reel Quick 48 Hour Film Competition.
Screenplay competition

The results are in for the second annual Screenplay Competition. The first place winners of the feature screenplay and short screenplay competition will have their scripts read at the film festival this year, so stop by to listen to these scripts Ö itís where all great films start.



Feature Screenplays:



1st place: Poe's Second Chance (reading during the festival), written by Nancy Sanders.

Disillusioned by the silliness of her own hit TV show, 'Who Do You Think You Were?', creator/producer Eliza Valentine decides to quit...only to hesitate when a man, claiming to have been Edgar Allan Poe, appears on the show and causes her to reevaluate not just her job, but also her love life.



2nd place: Unnatural Girl, written by Callie Lane.

A young New Zealand writer conquers tragedy and emerges as one of the leading artistes of her day.



3rd place: The Year of My Nervous Breakdown, written by Darlene Hunt.

The Year of My Nervous Breakdown is a comedic look at loneliness, as a single woman begins househunting and ends up falling in love with and then stalking her realtor.



Short Screenplays:



1st place: Heart Rate (reading during the festival), written by Alan Barkley.

Against orders, a male and female cop enter an abandoned building searching for a cop killer - and start hunting each other.



2nd place: Bert's Used Cars, written by Greg Rebman.

Buddy Nedermeyer is a used car salesman who has lost the will to sell. When Lou, a smooth criminal, drives onto the lot, Buddy concocts a plan to reenter his own life.



3rd place: Building Better Pumpkins, written by Will Hicks.

To save his farm, a farmer goes to work for the company that drove him out of business.
Inaugural Esurance Animation Showcase

Esurance will return to the Festival this year as a supporting sponsor, and present a brand new category this year: The Esurance Animation Showcase, the Festivalís first stand-alone animation program.
Highlights include Pixar's LIFTED; Disney's HOW TO HOOK UP YOUR HOME THEATER, starring Goofy; SHUTEYE HOTEL, from two-time Oscar nominee Bill Plympton; a new short from Aardman Animations, creators of CHICKEN RUN and WALLACE & GROMIT; a hilarious Australian-Chinese co-production about the bittersweet relationship between a dog and Chinatown; and more great animated shorts from around the world.
The Esurance Animation Showcase will also feature a very special event: Pixar's Dylan Brown, the Supervising Animator of RATATOUILLE (nominated for five Academy Awards) will give a behind-the-scenes presentation on acting and performance in animation, using characters from the hit film. He will also be available to answer audience questions.
For more information on the 2008 Vail Film Festival program visit www.vailfilmfestival.org.

Comment on "Momentum builds for Vail Film Festival" using the form below