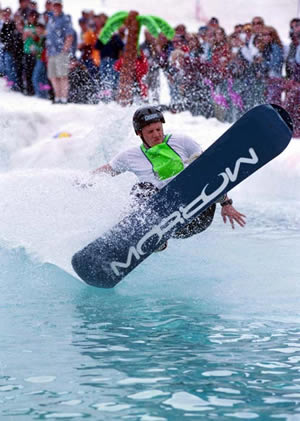 Getting across a body of water on some sort of snow-sliding device is a spring break staple.
By Dan Davis
trekkerphoto.com
Spring break rocks the Rockies: a sampling of sizzling ski-town events
By David O. Williams
March 20, 2008 — Sure, you can do the usual this spring break – ski in shorts and get a bad case of snow rash, try to ski across a slushy pond and wind up humiliated and hypothermic, or forget to wear sunscreen and do your best snow-blind lobster impersonation – but why not dare to be different this March and April?
Why not race a kayak down the slopes of Monarch Mountain? Or celebrate the phantom 1976 Denver Olympics at Winter Park? Or take in a film festival in Vail? Or party with Olympic silver medalist Gretchen Bleiler and a bevy of snowboarding beauties at the inaugural Snow Angels Invitational at Snowmass?
Beginning in mid-March, ski resorts around the state start trotting out an array of creative events to entice spring-breakers - including some impressive musical lineups to woo the college crowds - but the discerning vernal vacationer may want to branch out a bit this season, seeking out the best deals, smallest crowds and the most culturally enlightening events that don't involve beer bongs and bikini thongs.

The first full day of spring isn't until March 21, with Easter Sunday a couple of days later on March 23, but a few short weeks after that most Colorado resorts will start shutting down the lifts for the season.
The fact is, though, spring break begins in earnest in early March and runs throughout the month, and with the bountiful snowpack so far this season (most Colorado resorts had surpassed 300 cumulative inches by mid-February and some had gone over 400), there should be good skiing till the bitter end – and the lodging and lift ticket deals really kick in after April 1.
What follows is by no means a comprehensive guide to what to do in Colorado ski country this spring season, but rather some highlights of recommended events, deals and locations – broken down by family fair, out of the ordinary events, athletic endeavors and college craziness – that's meant to give you the most bang for your spring-breaking buck.
Out of the ordinary
April 3-6: Vail Film Festival. Started a few years ago to help bolster off-peak skier numbers, the Vail Film Festival has morphed into an acclaimed celebration of independent and creative film making. Recent premiers and highlights include "Before Sunset" (Ethan Hawke, Julie Delpy), "My Date with Drew" (Drew Barrymore), "Kung Fu Hustle, House of D" (David Duchovny, Robin Williams) and "The Wendell Baker Story (Luke Wilson, Owen Wilson, Eva Mendes, Will Ferrell). Go to
www.vailfilmfestival.org
or
http://vail.snow.com/winter/ae.events.filmfestival.asp
for the film festival lodging and lift-ticket package, or call (877) 204-7881.
April 5: Monarch Mountain's third annual Boatercross competition, in which kayakers navigate a specially designed course with banked corners, berms, rollers and small jumps in a bid to win a new kayak, mountain bike or Monarch season pass. Kayaking is really just riding snow in its liquid form, so why not get a jump on the whitewater season? Go to
www.skimonarch.com
or call (888) 996-7669.
April 5: Fiesta Latina at Breckenridge. Try to be suave in ski boots while checking out Latin dance performances and ski boot salsa lessons to DJ Patricio on the deck of the Bergenhof Restaurant. Bilingual ski and ride lesson products and ethnic foods will be served - just one of many events going on as part of Breck's 8th annual Spring Massive celebration, April 1-20. Go to
http://breckenridge.snow.com/info/winter/ea.springmassive.asp
or call (970) 453-5000.
April 13: Monarch celebrates the end of the season with its annual parking lot cook-off. "It's just a bunch of people tailgating and skiing," says marketing director Greg Ralph. "We actually judge the event based on décor and food, with season passes being awarded in each category. Last season brought up not only the locals, but professional chefs from throughout Colorado." Look for a live band and plenty of beverages. Go to www.skimonarch.com or call (888) 996-7669.
College craziness
March 21-23, March 28-30 and April 4-6: The 8th Annual Bud Light Spring Jam at Aspen/Snowmass is made up of three weekends of new-school skiing and riding competitions, free concerts, terrain park clinics and killer parties, starting with a free show featuring Super Diamond March 21 (with other big-name acts TBA) and the KickAspen Big Air contest March 22. Go to www.aspensnowmass.com or call (800) 525-6200.
April 4-6, 11-13: Sunsation at Copper Mountain. One of the best spring-break parties going and now in its eighth year, the musical lineup this season includes George Clinton and the P-Funk Allstars, Matisyahu, Susan Tedeschi, Pato Banton and Eek-A-Mouse (headliners), as well as De Sol, Topaz, Lotus, Band of Heathens and more. Go to www.coppersunsation.com or call (866) 841-2481 for this season's lineup and lodging and lift-ticket packages.
April 7-13: Spring Back to Vail is a high-energy end-of-season bash that this season features shows by Ben Harper and Gov't Mule, but also plenty of side parties, free concerts and on-mountain events like the annual pond skimming championships. "The concert lineup this year is amazing," event producer James Deighan of Highline Sports & Entertainment said of the double Grammy Award-winning Harper. "Having artists like these is what makes this the best spring bash in the country." Go to www.springbacktovail.com or call (800) 525-2257 for lodging deals.
Family fair
March 23 – Easter egg hunts abound on Easter Sunday. Copper Mountain claims the largest in the state (
www.coppercolorado.com/todo/events/2008-03/Easter_egg_Hunt.htm
), and Winter Park features a bunny race, candy contest and egg hunt for the toddlers. Go to
www.winterparkresort.com
or call (970) 726-1564.
March 29: The Blues and BBQ Festival at Keystone is good for all ages, mixing killer blues and tangy barbecue. Go to http://keystoneresort.com or call (800) 468-5004 for event details and lodging deals, including a leap year package that tacks on an extra night of lodging and extra day of skiing at most Vail Resorts' mountains (Beaver Creek, Breckenridge, Keystone and Vail). Go to www.snow.com for information on lodging deals at the other Vail resorts.
Through April 20: ResortQuest, the nation's largest resort vacation home and condo rental company, with 3,000 properties in Aspen, Snowmass, Breckenridge, Keystone, Steamboat, Telluride and all over the Rocky Mountain West, is offering its Turn Up the Volume package through April 20. Book a four-night minimum stay and get an iPod Shuffle for your teenager, already loaded with music they'll like and a Warren Miller ski film to get them pumped for the slopes. Call (800) GO-RELAX or go to www.resortquest.com. Ask for promo code DIR HDM.
Athletic endeavors
March 28-30: Ski with the Pros at Beaver Creek, featuring 90-minute meet and ski sessions with former racers and big-mountain skiers such as A.J. Kitt, Chris Anthony, Jenn Berg and Hannah Hardaway, and ski testing during the SKI Magazine Experience. Sessions are free for Beaver Creek guests, but reservations are encouraged by emailing slangston@vailresorts.com. Go to www.beavercreek.com or call (970) 845-9090.

March 29: The Helly Hansen Battle in the Bowls at Aspen Highlands pits teams of two attacking Highlands Bowls with Helly Hansen Flake GPS devices in a route-finding and vertical-foot competition. Go to www.aspensnowmass.com or call (800) 525-6200.
April 4-6: Olympic snowboarding silver medalist Gretchen Bleiler hosts the inaugural Snow Angels Invitational at Snowmass, part of Aspen's annual Spring Jam. The event brings together some of the world's best female snowboarders for a cash competition and photo shoot at the new Snowmass super-pipe. Off-snow activities including spa services, yoga and environmental workshops. "The girls can compete, win prize money and get shots for magazines and their sponsors, gaining exposure for themselves and our sport in a low-pressure, end-of-the-season environment," Bleiler said. Go to www.aspensnowmass.com or call (800) 525-6200.

Comment on "Spring break rocks the Rockies: a sampling of sizzling ski-town events" using the form below