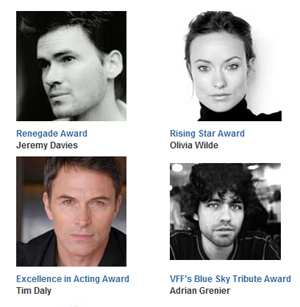 Some of this year's Vail Film Festival award recipients, including, clockwise from upper left: Jeremy Davies, Olivia Wilde, Tim Daly, Adrian Grenier.

Vail Film Festival welcomes over 80 films, 200 filmmakers
By realvail.com
April 1, 2008 — The skiing may be unseasonably good right now, but it's not the only reason to come to Vail this weekend.
Actors and filmmakers, too, will draw crowds for the 5th Annual Vail Film Festival, which takes place April 3-6 this year.
The festival will be screening over 80 films and giving tribute awards to five actors. Over 200 filmmakers are committed to attending the festival and taking part in Q&As, film intros, and more. The fifth year will pack more films, music, and parties into the four-day weekend than ever before.
Here's a breakdown of what's on tap for this weekend:
AWARD RECIPIENTS:

Tim Daly (Star of "Wings" and "Private Practice")

Adrian Grenier (Star of HBO's "Entourage")

Jeremy Davies (One of the stars on "Lost" and the movies "Saving Private Ryan", "Dogville", "Rescue Dawn")

Jesse Eisenberg (Star of "The Squid and The Whale", "The Hunting Party", "The Living Wake"

Olivia Wilde (One of the stars  on Fox's hit show "House" and the movies "Turistas" and "Fix"

For more information on the award recipients click here.
FILM HIGHLIGHTS:

Diminished Capacity, a gripping drama starring Alan Alda, Matthew Broderick and Virginia Madsen

The Guitar, Amy Redford's directorial debut, starring Saffron Burrows, Janeane Garofalo

Mister Foe, a story about a confused teenager coming of age in London, starring Jamie Bell and Claire Forlani

Forgetting Sarah Marshall, a comedy from Universal Pictures and producer Judd Apatow (the director of the hit comedy The 40 Year-Old Virgin) starring Jason Segel, Kristen Bell, Mila Kunis, Jonah Hill, and Paul Rudd.

Adventures of Power starring Adrian Grenier and Ari Gold

Fix starring Olivia Wilde

The Living Wake starring Jesse Eisenberg

Summerhood narrated by John Cusack

For the full film program click here.
PRESENTATION HIGHLIGHTS



Pixar Presentation presented by Esurance:

Ratatouille: Acting and Performance in Animation. In a very special multi-media presentation, Pixar supervising animator Dylan Brown will use behind-the-scenes material and the lovable characters from the hit film Ratatouille (winner of the Academy Award for Best Animated Feature) to illustrate the role of acting and performance in animation.
Apple Presentation:

Digital Post Production Process with Charles Meyer, Senior Systems Engineer, Apple

Come and hear how Apple is developing tools to address the needs of filmmakers as they transition from film-based workflows to new digital workflows. Followed by a Q&A with Charles Meyer, a post-production specialist who has been with Apple for five years. 
This year, festival presenting sponsor Best Life magazine will once again host the popular

Best Life Lodge. The Best Life Lodge will be located at Vail Square in Lionshead and is open only to Festival Passholders. The Lodge will feature complimentary food and beverages, including gourmet fare from Vail's top restaurants, beer from Stella Artois, wine from Redwood Creek and Barefoot Wines, and liquor from Diageo.
The Lodge will also host the Festival's Music Café, featuring musicians from LA's famed Hotel Café. Enjoy the Lodge before films, after screenings, or anytime you want to hang out with festival guests and filmmakers.
Look for more, including the immense, colorful festival schedule at www.vailfilmfestival.org or call 970.476.1092 for more information.

1 Comment on "Vail Film Festival welcomes over 80 films, 200 filmmakers"