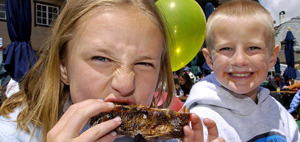 The Blues, Brews and BBQ festival features the largest microbrew tasting in the state when it kicks off the summer season at Beaver Creek May 24-25.
Photo courtesy Vail Resorts
Blues and Brews and BBQ comes to Beaver Creek May 24-25
By realvail.com
April 14, 2008 — Memorial Day weekend marks the time when Beaver Creek swings into its summer season with the Blues, Brews, & BBQ festival. The aroma of some of the world's finest BBQ mixes with the sounds of top blues acts in Beaver Creek during this weekend, which is also peppered with a healthy dose of lodging deals and other events.


BBQ chefs from Kansas City, Des Moines, Iowa, and of course Colorado, compete to see who can win the hearts and taste buds of the gathered audiences. The Park Hyatt Resort and Spa also hosts the largest Microbrewery beer tasting in the state, which features over 100 special concoctions from 35 Colorado-based breweries.
The Centennial Express chairlift will also be open from 9:30 a.m. to 4:30 p.m. An all-day unlimited Adult Pass is $20, and children under 12 ride free when accompanied by a paying adult.
From noon to 6 p.m., blues bands perform on the plaza.

Comment on "Blues and Brews and BBQ comes to Beaver Creek May 24-25" using the form below