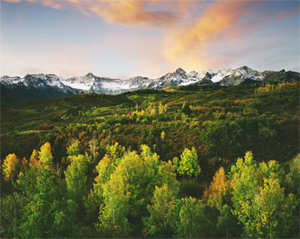 This image of Mount Sneffle near Telluride is one of many which Inden captured using an antique Deardorf 8x10 camera. Inden is shooting as much as he can with the camera because of its ultra-high quality resolution, but also because the unique film is no longer in production and very difficult to find.
Note: Reproduction of these photos on the internet requires an extreme lowering of resolution.
By Matt Inden
mattindenphotography.com
Antique camera, lasting images: the photography of Matt Inden
In a digital age, local photographer uses old techniques to build new business
By Tom Boyd
May 13, 2008 — At three a.m. this past June, Matt Inden hiked from his camp atop Shrine Pass to a location overlooking the Holy Cross Wilderness area. Lugging a large, bulky camera and tripod over his shoulder, Inden tried and failed to capture the photograph for which he was searching.

The next day, he tried and failed again.

And he tried and failed again, and again.

On the final morning, day five, the clouds broke and the moon hung luminescent just atop the peaks. He positioned his Deardorf 8x10 camera among the wildflowers and perfected his focus with the help of a loop. Shroud in a 'dark cloth' like photographers from the 1800s, Inden found his ideal photograph and captured the image on the camera's huge, almost absurdly large, negative plate.

A few weeks later, the image appeared on a large print, with the kind of detail a 35mm camera owner could only dream of. The image is now part of Matt Inden's portfolio as he enters photography's most competitive industry: landscape images.


"I was a ski bum making $8.50 an hour, turning screws on bindings and being a 26-year-old bus boy," Inden said of his early days learning the art of landscape photography in Telluride. "The San Juans are such a pretty spot that if you're going to get into photography, it's hard not to take landscape photos down there."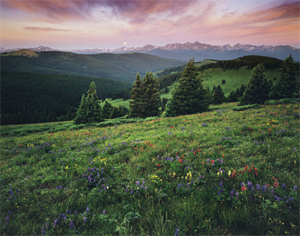 It took five early mornings and many failed attempts for the light, the mountains and the moon to align for this photograph, which shows Mount of the Holy Cross and the Holy Cross Wilderness Area.
By Matt Inden

Inden went to Denver and attended the Art Institute of Colorado. During school, while shooting the wildfires of 2002, he captured the crash of a PB4Y-2 slurry bomber in a series of photos. The photos, taken during the Elk Fire near Estes Park, ran in the Rocky Mountain News and Inden's name was included among those who won the Pulitzer Prize in news photography for the News.

After a stint working for the Rocky Mountain News, he took a job at the Vail Trail (working with this reporter). He continued sharpening his skills while shooting for the Colorado Tourism Office until about a year ago, when he loosed the moorings and set off toward the difficult goal of becoming a successful landscape photographer.

"Having done the newspaper work you do your assignments and you clock out, for the most part," he said. "But this is weather dependent, and it's kind of a numbers game where you have to go out and spend maybe two weeks in a row on a photo and hopefully the weather works out, one little cloud moves into the place where you want it."

In an age where almost everyone has a camera on hand at any given time – in their pocket, on their cell phone, or in their purse – the challenge of differentiating one's self can be daunting. It is a combination of time, Matt said, experience, and the unique Dierdorf vision camera which bring his landscapes to life.

Available for $300 and up, Inden's prints benefit from his use of the extremely large, detailed images he captures with his Dierdorf. Low-resolution versions of Inden's photos are available at www.mattindenphotography.com, or contact Matt at indenmatt@hotmail.com.


1 Comment on "Antique camera, lasting images: the photography of Matt Inden "