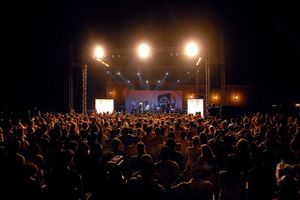 Ozomatli is playing a free show at Check Point Charlie on June 6 as part of the Teva Mountain Games.

Ozomatli to play free show in Vail Village, June 6
By Tom Boyd
May 19, 2008 — The first time I heard Ozomatli I was crammed into a standing-room-only bus, hurtling through tropical heat somewhere between Costa Rica and Panama. Unlike most of the buses south of the border, this one had a decent set of speakers - good bass, round tone. The young man at the wheel (who may or may not have been over the age of 17) drove the bus as hard as he drove his stereo (which may or may not have cost more than the bus itself), and as we set new land-speed records through a seemingly endless palm-oil plantation, we became involved in a kind of impromptu dance party, a spontaneous, mobile, fiesta on wheels, much to the driver's delight.

If Ozomatli could get us dancing then, they'll definitely get us dancing when they come to the Teva Mountain Games June 6. Good news, too: this one will be outdoors, in cool air, at the one-of-a-kind venue known in Vail as "Check Point Charlie," under the slopes and stars.

Also, the show is free — so no need to stress about tickets.

I've seen Ozomatli a few times since that first encounter. On the bus, their Latin flavor and my geographic location at first made me think they were some kind of holistic Argentinean band, but I was surprised to find they're based out of Los Angeles. After a while, though, it made sense. A lot of bands make the claim to be musically diverse — a mix of several disparate styles — but very few actually make that difficult grade. Their global reach is more important, I decided, than the location of their home city.

Sometimes I think they're Black-Eyed Peas, sometimes more like the Chili Peppers, sometimes more like latin jazz, and then after a while I give up trying to figure out what they're like and just get into it. When I tire of dancing — and believe me, keeping up with a Latin dancer is like going out for a quick ride with Lance Armstrong — I like kicking back from the sidelines, watching one musician and then another, picking out what they're playing and following it for a while. The sounds can be so different from one another, so arrhythmic, that it seems they could never flow together.

But they do — so maybe that's why they've picked up two Grammy awards and a Latin Grammy.

Check out more at www.myspace.com/ozomatli or www.ozomatli.com.


Comment on "Ozomatli to play free show in Vail Village, June 6" using the form below