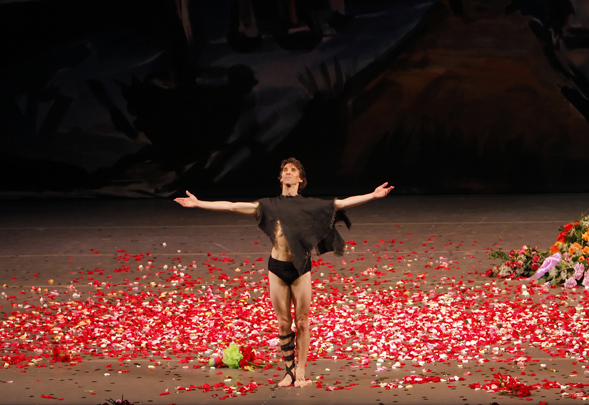 Damian Woetzel's farewell performance at the New York City Ballet was hailed as, "simply magnificent," by the New York Post. He now will delve full-time into his role as Artistic Director of the Vail International Dance Festival.
Photo by Paul Kolnik
vvf.org/vvf/info/events.cultural.vaildance.aspx
Vail International Dance Festival artistic director Damian Woetzel says farewell to NYC ballet
By realvail.com
July 2, 2008 — In a career spanning 23 incredible years of dancing, Vail International Dance Festival Artistic Director Damian Woetzel has enchanted ballet fans across the world. He bid farewell to his role as Principal Dancer at New York City Ballet last month, in a performance which has garnered mass critical acclaim.

Heralded as "simply magnificent," Woetzel "...combined explosive pizazz with impeccable style and notable authority," wrote New York Post reviewer Clive Barnes.

"He takes his leave at the peak of his form," continued Barnes. "That perfect crossover mark between physical possibility and artistic maturity."

The only news bigger than Woetzel's retirement from New York City Ballet was the buzz about what the future holds for dance's shining star. And that, of course, includes the Vail International Dance Festival, over which Woetzel has served as artistic director for the last two years.

"The mood was bright," wrote New York Times reviewer Alastair Macaulay of the farewell evening at New York State Theatre. "Mr. Woetzel is an artist so decisive that we can only assume he's still going places."

Indeed, Macaulay even suggests that the very attributes that contributed to Woetzel's greatness onstage will be kept alive in his future endeavors.

"Last August, at the Vail International Dance Festival, he conducted an onstage interview with choreographer Christopher Wheeldon," wrote Macaulay. "He deflected the limelight onto Mr. Wheeldon with complete stillness and gentle chivalry: the virtues he has shown as a great partner."

Woetzel returns to the Valley in a few weeks to resume his role locally, though he has been working tirelessly from New York and the road to ensure that the 2008 lineup will be even better than 2007's critically acclaimed year.

"My aim is that the 2008 Festival build on the successes from last year," Woetzel said. "At this landmark season, we are going to celebrate what we have achieved while reemphasizing our commitment to making Vail a place where the arts flourish."

In addition to an all-star lineup featuring the finest dance companies in the world, Woetzel cites a laundry list of new Festival initiatives as evidence of progression toward an ultimate goal of growing appreciation and availability of dance in our community.

"Among our efforts, the new Dance for $20.08 evening makes world-class dance accessible to the community," Woetzel said. "With reserved seats offered at $20.08 and lawn seats offered at $8 – less than a movie ticket – we hope to remove certain barriers which have often made dance seem unattainable to some audiences, and spread the joy of this art to new fans."

Additionally, this year's expanded Celebrate the Beat dance outreach program widened the Festival's educational reach in the community.

"This year we added a spring residency to the program, with a two-week workshop in the Avon Elementary School," said Woetzel. "We return this summer with a week-long workshop and public performance – we're thrilled to reach as many children as we can with this program, which teaches such valuable lessons about the joys of dance and music."

With his dancing days behind him – for now at least! – Woetzel has focused his singular attention on the two weeks of spectacular performances that will take the Valley stage July 27 – August 10.

"It is with initiatives like Dance for $20.08 and Celebrate the Beat that we engage today with our eyes on tomorrow," Woetzel concluded. "I hope that everyone willl join us for all the wonderful performances and community events in store for this year's Festival."

And the real clincher: Woetzel will return to the stage, albeit briefly, to perform in the International Evenings of Dance. He's announced that he'll perform on at least one of the showcase evenings (scheduled for August 1 and August 2), appearing in a pas de deux titled Sinatra Suite, choreographed by Twyla Tharp for Mikhail Baryshnikov. Don't miss this rare opportunity to see one of ballet's greatest stars dance in the enchanting venue of the Ford Amphitheater.

For more information and a full schedule of the 2008 Vail International Dance Festival, please visit www.vaildance.org or call (888) 920-ARTS(2787). The Vail International Dance Festival is a project of the Vail Valley Foundation.


1 Comment on "Vail International Dance Festival artistic director Damian Woetzel says farewell to NYC ballet"