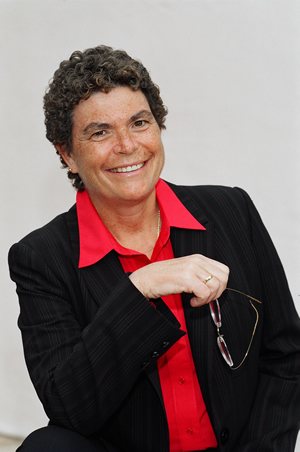 Dr. Susan M. Love, a breast cancer advocacy pioneer, speaks Friday at the annual Celebration of Life luncheon.
Courtesy of the office of Dr. Susan M. Love
Breast cancer advocacy pioneer Susan Love keynotes Celebration of Life Luncheon
Former 'Bachelorette' star Ryan Sutter to auction off pink firefighter helmet
By realvail.com
July 12, 2008 — The Vail Breast Cancer Awareness Group (VBCAG) welcomes Dr. Susan M. Love, a pioneer of breast cancer advocacy, to serve as the guest speaker for this year's 14th annual Celebration of Life Luncheon.

The Beaver Creek Resort Company and Dr. Michelle V. McNeill are generously serving as the luncheon's presenting sponsors, which will be held on Friday, July 18 at the Ritz-Carlton Bachelor Gulch. The day's events will begin with a silent auction at 11 a.m., followed by the luncheon and Love's presentation. The cost is $100 per person.

"In 14 years, this year we received more sponsor dollars than ever for the Celebration of Life luncheon," said VBCAG board member Kristin Kenney Williams. "This is proof that our community is committed to the cause, and the fact that almost every single one of us has been touched by breast cancer at some point in our lives. We all want to make a difference and help raise awareness about the importance of early detection."

Love is well known for her life passion: to eradicate breast cancer within our lifetime via the Dr. Susan Love Research Foundation.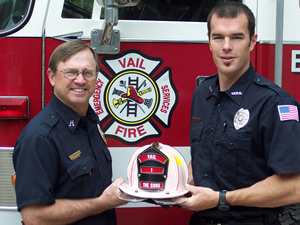 Vail firefighters Cooter Overcash and Ryan Sutter show off the pink helmet they'll be auctioning at Friday's Celebration of Life Luncheon to benefit the Vail Breast Cancer Awareness Group.
Courtesy of Town of Vail

"Now that we can get to where breast cancer starts we have the opportunity to eradicate it," says Love. "I am excited and impatient. The road is clear. We can go slowly or quickly, but everyday that we delay another 592 women will be diagnosed and 110 will die. The cost is too high to hesitate. This is our job not our daughters, granddaughters, nieces or nephews. We can do it and we have to do it!"

Love has always been a pioneer and entrepreneur. She is known worldwide as one of the founding mothers of the breast cancer advocacy movement and sits on the boards of the National Breast Cancer Coalition, Y-ME and the Young Survival Coalition.

She started the first all-women Breast Center in Boston, then went on to develop the model for multidisciplinary breast care at the Revlon/UCLA Breast Center. After inventing the intraductal catheter at UCLA she recognized that she could develop it further in the for-profit arena and started Pro•Duct Health Inc (later acquired by Cytyc Corporation).

She is currently the President and Medical Director of the Dr. Susan Love Research Foundation, and founder and Medical Director of Windy Hill Medical, a breast cancer prevention company.

Always focused on keeping women educated about their options, Love authored Dr. Susan Love's Breast Book, termed "the bible for women with breast cancer," by the New York Times. Dr. Susan Love's Menopause and Hormone Book, first published in 1998, was one of the first to sound the alarm about the widespread use of postmenopausal hormones.

The second edition was released in January 2003. A frequent spokesperson in the media she founded LLuminari, a multimedia women's health information company whose experts are termed "Oprah's doctors" in O magazine.

She is a Clinical Professor of Surgery at the David Geffen School of Medicine at UCLA and was appointed by President Clinton to the National Cancer Advisory Board. She lectures nationally and internationally on breast cancer, menopause and women's health.

She has been awarded six honorary doctorate degrees, as well as numerous honors and citations. Dr. Love has a business degree from the Executive MBA Program at UCLA's Anderson School. She is on the board of Sanarus Medical and provides consultation to PepsiCo.

Love received her medical degree from SUNY Downstate Medical Center in New York, did her surgical training at Boston's Beth Israel Hospital. She has retired from the active practice of surgery to dedicate herself to the urgent work of breast cancer prevention.

"We are so privileged to have Dr. Love visit the Vail Valley and offer her experience and expertise to the hundreds of women and men who attend our luncheon event," said VBCAG board president Brenda Himelfarb. "She's not only extremely knowledgeable but she is amazing at delivering levity to a very serious and thoughtful presentation."

Another exciting luncheon element is the pink helmet campaign. Currently Vail firefighter Ryan Sutter and Capt. James "Cooter" Overcash are donning a pink helmet to raise funds for the Vail Breast Cancer Awareness Group. The pink helmet is an authentic leather helmet, painted pink by the Town of Vail's Melvin Valdez, master auto body technician.

The helmet will be awarded to the highest bidder during a live auction at the July 18 luncheon. In addition, the winner will also be treated to lunch in Beaver Creek with Ryan and Trista Sutter who met and subsequently married on the TV show, the "Bachelorette."

The Vail Breast Cancer Awareness Group was co-founded in 1993 by Eagle-Vail resident and breast cancer survivor Brenda Himelfarb, and by Edwards resident Patti Weinstein, owner of Roxy boutique clothing stores in Denver, Vail and Beaver Creek, whose mother-in-law lost her battle with breast cancer.

The group, which in addition to board members Weinstein, Himelfarb and Williams include, Lynda Gustafson, Kathy Spangler, Pollyanna Forster and Joyce Bradley, strives to ease the financial an emotional burdens endured by those women in Eagle County who are battling breast cancer through fund raising efforts and emergency financial assistance. The VBCAG has raised nearly $500,000 since its inception.

Additional event sponsors include: The Shaw Regional Cancer Center/Vail Valley Medical Center; Ginn Resorts; the Vail Daily; the Ritz-Carlton Bachelor Gulch; Slifer Designs; East West Resorts; East West Partners; The Westin Riverfront Resort & Spa; Vail Resorts; the Vail Board of Realtors; Vail Sports Medicine Physical Therapy; US Bank; Keller Williams Mountain Properties; Wells Fargo Home Mortgage; First Bank of Vail and Avon; Deborah Courtney; The Dauntless Dames; and Slifer Smith & Frampton. The event also received an anonymous $5,000 sponsorship in celebration of three women who have undergone treatment for breast cancer.

For more information or ticket sales, call (970) 479-8595.


1 Comment on "Breast cancer advocacy pioneer Susan Love keynotes Celebration of Life Luncheon"