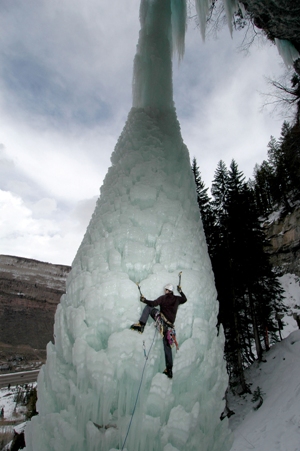 A climber navigates the tricky Fang formation in East Vail - a popular spot for hard-core ice junkies but also a possibility for the uninitiated willing to hire a guide.
Dan Davis
trekkerphoto.com
Alpine alternatives: ice, air, water and poker
Entertaining options beyond alpine skiing abound at Vail Resorts' mountains
By David O. Williams
April 15, 2006 — Clinging to the 120-foot pillar of ice in East Vail known as the Fang, you may wonder what possessed you on an off day during your ski vacation to eschew the serenity of the spa for a day of pulse-pounding, ice-climbing adventure.


But besides the thrill of scaling a frozen waterfall - your every tenuous move framed by the drop-dead-gorgeous backdrop of the Gore Range mountains - climbing guide David Roetzel of Vail Rock and Ice Guides says your motivations will crystallize in your mind when the day is winding down.


"People get all jacked up on emotion," Roetzel says. "It's not at all uncommon to have them say, 'Wow, I never thought I could do this kind of stuff.'"


Far from the first thing that comes to mind when considering a skiing or snowboarding alternative, ice climbing certainly keeps the adventure of the ski trip rolling and utilizes a very different set of muscles. It's also not as extreme as people might expect.


"It's definitely stepping outside of the box for a lot of people, even if they consider themselves a pretty hardcore skier," says Roetzel, who calculates half his winter business comes from skiers mixing things up on a day off from the slopes of Vail and Beaver Creek. "Ice climbing is completely novel, and it's much more of a controlled experience than the average person thinks."


Roetzel offers everything from low-angle outings for never-ever climbers (all gear provided) to expert guiding for advanced climbers in one of the Colorado's most famous ice-climbing venues.


There are no commercial ice-climbing outfits in Summit County (home to Vail Resorts' Breckenridge and Keystone ski areas), but it's less than an hour's drive over Vail Pass to East Vail. Vail Resorts' fifth ski area, Heavenly Ski Area in the Lake Tahoe region of California, is lower than Vail and tends to be warmer, making guided ice-climbing problematic.


Heavenly boasts virtually every other form of off-slope fun, though, including another adrenaline-inducing activity that builds upper arm strength: one-armed-bandit wrestling. South Lake Tahoe, Nevada, at the base of Heavenly's gondola is a mini-Vegas complete with plush casinos and nightclubs now actively gunning for the younger crowd attracted to snow riding.


"The casinos are seeing that part of their youth market is our demographic, and they're shifting away from the gray," says Heavenly chief operating officer Blaise Carrig. "It's not your traditional mountain resort town, but if there's any town that has the hip edge for the youth market, I think it's Tahoe."

Skiing alternatives
Ice climbing:

Gaming:

Guided winter fishing:

Hot air balloon rides:

Nordic skiing/snowshoeing: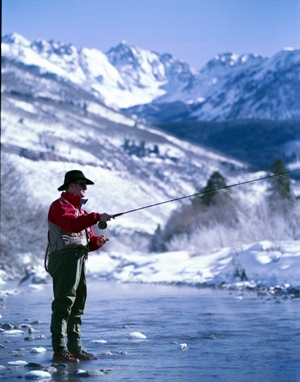 The truly enthused can pull a winter double of powder skiing in the morning and serenly snagging a couple of trout in the afternoon.

Colorado skiers can take some time off and hit the tables as well, albeit on a slightly toned-down scale. The historical mining towns of Black Hawk and Central City, just an hour or two van drive east of Summit and Eagle counties, serve up limited-stakes gambling in classic Old West settings.


But if rappelling down an ice flow or doubling down in blackjack both seem a little over the top on your off day, go fish.


"For the guy who has to do it all and has a limited amount of time, you can ski and fish in the same day," says Bill Perry of Fly Fishing Outfitters in Avon, who adds most skiers aren't quite so ambitious, preferring to bag a powder day one day and a 12-inch rainbow the next.


Advances in long underwear and breathable raincoats and waders have made winter fly fishing not only viable but actually quite comfortable, and the lack of competition on rivers typically choked with anglers in the summer can lead to some serious lunkers lurking in chilly pools.


"You don't have to compete with as many other anglers and it's very pretty, very quiet and very serene," says Perry.


On the topic of serenity and warmer-than-expected experiences, a day away from the ski runs doesn't have to mean a complete lack of big air. Hot air balloons soar some 2,000 feet over the ski areas, rising above winter air trapped closer to the ground by air inversions, and providing unparalleled views of surrounding mountains and wildlife.


Merlin Sagon of Camelot Balloons in the Vail Valley says a little snow can add to the airborne ambiance.


"Under those conditions we can create a rate of descent that's equal the rate of the snowflakes falling. It's kind off neat because the snowflakes seem to be suspended in front of you," says Sagon. "And when you get up a couple of thousand feet and you have all of these mountains around you, it's pretty spectacular."


At Heavenly, the scenic value of Lake Tahoe – already off the charts from the top of ski area – takes a quantum leap when viewed from above with Lake Tahoe Balloons.


Then again, perhaps one of the most relaxing ways to give aching snow-riding muscles a break but still get outdoors and soak up the scenery is to simply stay on skis (the skinny variety) or downgrade to a pair of snowshoes.


Beaver Creek's Nordic Sports Center, besides being uniquely situated atop the alpine-ski mountain and accessed by chairlift (for high-alpine views and mountain-top solitude), offers instruction for all levels in telemark skiing, cross-country and snowshoeing, with guided nature tours and picnics at 10,000 feet.


"It's one chairlift ride away, you're not getting in the car and driving somewhere, and you're heading up to one of the most beautiful Nordic centers in the world," says director Nate Goldberg. "The backcountry is just one lift ride away."

Comment on "Alpine alternatives: ice, air, water and poker" using the form below