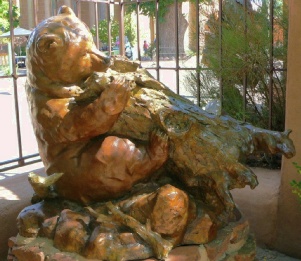 Walt Horton's "Sweet Tooth" sculpture reveals the Beaver Creek bronze artist's whimsical, almost comic style.

Multi-dimensional man: Edwards' Walt Horton
Artist, scholar, inventor – revealing the many sides of a bronze sculptor
By David O. Williams
August 4, 2007 — Walt Horton – bronze sculptor, cartoonist, inventor of sling golf and collector of rare and ancient Biblical manuscripts – is unquestionably a modern renaissance man. Yet for an artist so thoroughly immersed in history, Horton is palpably relieved not to have literally been born a Renaissance man.


The Beaver Creek creator of humorous works depicting children and animals says he is alive at the perfect time in human history to make a living as a bronze artist. The great Renaissance-era sculptors so responsible for shaping the course of Western art over the ensuing five centuries weren't so fortunate.


"Those guys were miserable," Horton said from the living room of his spacious mountain home in the Lake Creek Valley near Edwards. "You read about Michelangelo's financial woes and how he had to plead with the church to pay him; he had all these people eating him out of house and home and he needed money to feed them.


"There's no time in history where a sculptor can make a living like he can today."


Horton seems genuinely humbled and appreciative of that fact as he details his meteoric rise as a bronze artist over the past decade after a long and acclaimed career as a commercial cartoonist. The animation of his bronze works leap to life from his local gallery – Beaver Creek Fine Art in the heart of Beaver Creek Village.


Soft-spoken, long and lean, there's a humorous twinkle in almost everything the 58-year-old Horton says and, for the most part, sculpts. Even his most earnest statements about his greatest passions come with comical caveats.


"I've always had a fascination with first-century Christianity and I've done a lot of research in biblical studies," he said. "That's my number one passion, and I use art to support my purchasing of valuable manuscripts. Ever since I was a kid I've kind of had a spiritual inclination. Fortunately, I never sent any money to (televangelists) Tammy Faye (Bakker) or Jimmy Swaggart."


While the bulk of Horton's commercially successful works center on quizzical conflicts between bears, squirrels and young Indian boys, he has produced several serious pieces derived from his intense interest in religious history. They include a tribute to William Tyndale, the 16th-century priest and scholar burned at the stake for translating into common English and printing the Bible, and a 14-foot depiction of David and Goliath.


His fervor for religious history, however, by no means is a defining element of Horton's life as an artist. Frequently joined by his wife of 37 years, Peggy, in meticulously researching the background for a piece, Horton's humorous bent seems neither studied nor forced. It was ingrained early on and reflected in his previous incarnation as a cartoonist in Bermuda for newspapers and ultimately for such corporations as Taco Bell, Kentucky Fried Chicken and Shell Oil.


"I had these good clients, but you check the history books and cartoonists really don't live that long," said Horton, a devoted fan of Gary Larson's "The Far Side" and Bill Watterson's "Calvin and Hobbes." "They get burned out – it's very stressful."


In 1993, during a visit to Aspen, Horton wandered into a gallery in need of a children's sculptor. Despite no previous experience in the medium – other than "in school playing around with Play-Doh" – and an utter ignorance of the fierce competition for such positions, Horton sculpted a rendering of a little boy reading a book to his teddy bear.


"(The gallery) called almost the very same day the piece got there and informed me that they'd sold one, so my wife and I were dancing in the kitchen we were so excited we were going to be able to pay our rent," Horton said. "And then about two hours later they called again, and I thought they were going to tell me the sale didn't go through or something, and they told me they'd sold another one."


At that point, Horton's work caught the eye of some Aspen celebrities and he began to show in other galleries. Living on Colorado's Front Range at the time, the Hortons followed their love of the Vail Valley up to their Lake Creek home, opened Beaver Creek Fine Art, where Horton occasionally works under the glaring scrutiny of his greatest admirers and faultfinders, and the rest was history, if you will – sort of the dawning of a new Bronze Age.


Forging a critical friendship


Horton's first primitive attempts in clay (bronzes are later cast from that more malleable medium) are a source of bemusement for him, and he draws a parallel between the early works of cartoonists who later flourished.


"Have you ever seen the first illustrations of 'Peanuts' or 'Calvin and Hobbes'? They were terrible. But because (Charles Schulz and Watterson) were doing it every day, they developed these brilliant strokes. And 'Calvin and Hobbes' is a fine example of what can happen when somebody gets an opportunity to do something on a daily basis and really develop a skill."


Still, his first stumbling attempts, while obviously imbued with his trademark sense of whimsy, cause him to cringe a bit at the state of his art at the time.


"I wish I could buy back everything I ever sold, melt it down and do it all again," he said. "But a friend of mine, Lincoln Fox, told me that's all part of my history and that I shouldn't feel that way. But some of my early works are embarrassing because I can do them so much better today."


Fox, an internationally acclaimed sculptor who has had one-man shows at the Smithsonian in Washington, D.C., and the Kennedy Galleries in New York City, has become a critical part of Horton's success. The two have developed a unique working relationship over the years that allows them to mercilessly critique each other's art.


Fox regularly visits Horton's Vail Valley studio, and Horton likewise makes the two-hour trip to Fox's Paonia, Colo., studio for frequent sessions that are the sculptors' equivalent of musicians' jam sessions.


"My work and his work is so much better than it would have been if we stayed in our separate studios with nothing to share the company with but our egos," said Horton. "Then you become myopic; you fall in love with what you're doing and you don't get that critical eye."


Fox concurs: "It's an unusual relationship," he says. "So often musicians have no problem getting together and jamming, and they make much better music together than singly. But artists, we have to be myopic and be very emotional about out work.


"But we're to the point now where we trust each other's aesthetics to the point where Walt can come over and cut a head off and I may or may not like it but I can see where he's coming from."


Yet it's more of a complementary companionship than a dictatorial one, allowing both artists to emerge from the creative void of their individual studios, where ideas can go untested until it's too late and the piece is being cast at the foundry.


"It's one person's song, and it's up to the other person to harmonize with that song," said Fox. "We enjoy ourselves royally together – it's a battery and a generator – and we can get more accomplished in two days working together than we can in a week of working alone."


Horton is the rare artist who relishes discerning feedback from the public as well. He tells the story of working on a piece in one of his galleries, surrounded by well-heeled admirers, when a young woman walked in and classically proved the old axiom that, indeed, everyone's a critic.


"She wasn't the picture of class, she wasn't a buyer, she was just a simple, blatantly honest person," Horton said. "I've got all these clients around who are buying this piece and spending thousands of dollars and this girl walks up and she says, 'I don't like it; it looks to me like the bear's going to bite the little boy's head off.'


"Everyone went quiet … and I stepped back and I looked at it and I thought, 'My goodness, you're right,' and I changed it and it's a much better piece."


Honesty among artists


That kind of brutal honesty is a key component of an annual workshop Horton and Fox teach together each February at the Loveland Academy of Fine Art. "The only prerequisite is that you park your ego at the door and expect heavy hands-on manipulation of your work," noted Fox.


Horton says it started as a fairly straightforward, collaborative and predominantly instructional workshop but has since morphed into a seminar on the harsh financial realities facing young sculptors today – despite the historically unprecedented opportunities presented by the greening of modern America.


"We found that there were a lot of hungry people in these classes who really didn't understand what was involved in making a living as an artist, and so we developed more than just a workshop showing people how to manipulate clay," Horton said. "We started talking about what it really takes to make a living."


When a sculptor produces a piece that actually sells and sells well, they've hit a homerun, Horton says, but "the artist, usually in desperation and looking for this homerun, just swings wildly and produces all these pieces of art, and it's a tremendous financial burden for the artist that produces nothing in the way of real viable income."


To further extend the baseball metaphor, Horton says young artists, rather than hacking wildly for the fences every time up, should find their unique identity in the field.


Many students, when Horton asks them what piece they want to do, will choose an obvious subject such as an eagle. Horton tells them it will take five years to get good at doing eagles, and when they achieve a certain level of proficiency they'll find 20 other people are just as good at doing eagles.


Another student will say they want to do nudes, and Horton patiently explains that a largely uninformed art-buying public might actually purchase a poorly executed and anatomically flawed nude or two.


"You can do nudes and you might sell a couple of them, but the competition is huge," he said. "So I tell them if you really want to make a living, you have to do something unique, like do an eagle swooping down on a nude. Then you're doing something no one else has done, and you may sell that."


Collectors often make enormous investment decisions based on skewed perceptions of art, or blatant misrepresentations, Horton says. He relates the tale of a client who was enamored of a particular wildlife sculptor who, it came out later, was covering a $50 taxidermy shell with clay, signing his name to it and selling the resulting bronze for $80,000.


"When people look for art they're oftentimes buffaloed by euphemisms and just flat dishonesty," Horton said. "If you're going to buy an animal sculpture, it's better to get one that's a little larger than life or a little smaller than life. Then you know it can't be a taxidermy shell."


Of course, Horton acknowledges that all art imitates life. He tells another story of a time a woman reverently approached him and asked to take a photo of one of his bear sculptures, apparently concerned she would somehow offend him.


"I said, 'Lady, I'm just copying what I see in the creation. Who am I to tell you you can't take a picture of my bear?'" Horton chuckled. "Solomon once said, 'There's nothing new under the sun (Ecclesiastes 1:9),' so I don't claim to be unique. I'm just a plagiarist like everybody else."


But Solomon also once said, "Wisdom is the principal thing; therefore get wisdom. And in all your getting, get understanding (Proverbs 4:7)," and clearly Horton has taken this advise to heart in his exhaustive research of early Christianity, both for the accuracy of his sculptures and his own insatiable edification.


Slinging for the fences


For an artist whose subjects – cavorting animals, children at play – are often so irreverent, Horton is gripped by an understated spiritual awe that is at once somewhat disarming and simultaneously unexpected and refreshing. It is sometimes hard to steer him back to the subject of art, which he explains he devotes only about 20 percent of his time to. The other 80 percent of his waking hours are spent studying and acquiring different biblical manuscripts, which he occasionally displays at the Avon Library.


His collection includes actual leafs from the second edition (1536) of Tyndale's first printed Bible, and last summer he purchased a limited edition, recently released by the Catholic Church, of the Vatican 1209 Codex B – the oldest Greek texts of the Bible in existence (third century).


Everything from variations on the word "woorde" in Tyndale's Bible to crude attempts at punctuation in the Greek text (predating most accepted academic dating of early punctuation by 1,000 years) fascinates Horton. But it's his nearly 40-year pursuit of truth in academic accounts of Solomon's father David's epic battle with Goliath that has led to a number of epiphanies for Horton.


By resolving a slew of discrepancies between various academic retellings of the confrontation and the actual biblical account, Horton ensured a historically precise 14-foot-tall bronze monument of the triumphant Jewish king in Denver. His search for veracity has inspired Horton to begin a book on the topic, but it also may lead to the next great revolution in golfing technology.


Horton became intimately familiar with the workings of the earliest form of artillery – the sling that led to Goliath's demise.


"Goliath was a professional killer and he knew full well the ability of Jewish and Philistine boys with a sling," Horton said. "It was one of the most deadly weapons in the 10th century B.C. People assume it was a boy's toy, but it was a key weapon in every militia in the B.C. period."


Warriors could launch stones 400 years with deadly accuracy and effect. As Horton researched his sculpture, he too became adept with a sling. But he needed stones of uniform size and weight to test his theories, and so he stumbled on golf balls.


In this way, sling golf was born. Firing a golf ball off his Lake Creek deck and landing it precisely where he intended on a small strip of lawn 300 yards away, Horton explains that he is finding wide acceptance for his preferred technique of "driving" the ball at golf courses throughout the Vail Valley.


"You don't have to wrap your clubs around a tree, and I've never golfed with anybody and had the golfer smiling and happy before during and after the game. It seemed like it was constant frustration," Horton said. "I've never experienced that with a sling. It's the most enjoyable sport I think I've ever been involved with, with the exception of surfing."


And so, as slyly and softly as he delivers the rest of his thoughts, the renaissance man reveals another contrasting side of himself – a surfer and a slinger trapped in a scholar's body.


For more information on Walt Horton's work, call Beaver Creek Fine Art at (970) 845-8500 or visit his website at www.walt-horton.com.






Comment on "Multi-dimensional man: Edwards' Walt Horton" using the form below