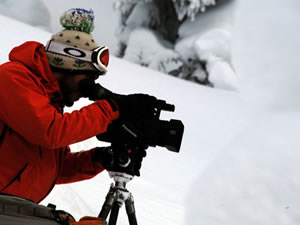 "Hand Cut" is filmmaking at the most elemental level, grassroots and focused on the art and the action.
Courtesy of Sweetgrass Productions
www.sweetgrass-productions.com/
'Hand Cut' ski film connects modern backcountry ethic to mountain-man past
Vail Mountain School showing raises funds for VMS Tele Team
By David O. Williams
September 25, 2008 — Loveland ski area just started blowing faux snow atop the Continental Divide the last couple of nights, but if the idea of skiing hard-packed, synthetic snow within the boundary ropes doesn't exactly do it for you this time of year, check out at a fresh new ski film offering called "Hand Cut" at Vail Mountain School Friday night, Sept. 26.

Made by a couple of Colorado College graduates, Nick Waggoner and Ben Sturgulewski, the film breaks out of the typical ski porn mold made so commercially viable by companies like Matchstick Productions and Teton Gravity Research. It's all about backcountry skiers earning their turns in some of the most raw alpine settings around the West.

"Hand Cut" uses a low-key rural blues soundtrack and historical cutaways and interviews to connect the dots between the mining and mountain-man history of the West and the current trend of hardcore backcountry skiers shying away from lift-served terrain in search of something better.

The film starts at 7 p.m. and costs $8 at the door – a fundraiser for the Vail Mountain School (VMS) Tele Team. And if you haven't been in the theater at the new Mountain School, a venue used for the annual Vail Film Festival, that's worth the price of admission alone. The place is seriously state of the art.

I know if my RealVail partner and VMS alum Tom Boyd hadn't been out slaying god's creatures in the wilderness (see Boyd's Blog) he would have handled this write-up, since he's a diehard tele-skier and an unabashed VMS booster, but I also have a personal connection to this film.

Nick dates my niece, who also just graduated from CC, and he seems like a really good guy with a passion for filmmaking and skiing. Here's some more background on Nick and his partner Ben, as provided by a couple of fine articles in the Aspen Daily News – a paper edited by my friend Troy Hooper that I also highly recommend next time you're in Glitter Gulch.

A final, and far more tenuous connection, is that RealVail's Webmaster, Kent Van Vleet, is a CC grad who grew up here in the Vail Valley. So get out and support this very worthy film and all the grads of the highly worthy schools involved.



1 Comment on "'Hand Cut' ski film connects modern backcountry ethic to mountain-man past"