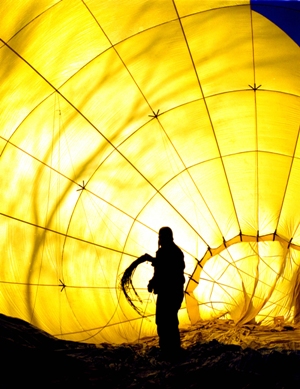 Camelot Balloons in Edwards offers a great alternative to a day on the slopes and incredible views of the Vail Valley.
Dan Davis
trekkerphoto.com
Winter hot air ballooning heats up in the hills
Scenery, wildlife, surprisingly warm air gives balloon pilots a seasonal lift
By David O. Williams
January 5, 2005 — When it comes to getting big air in the mountains during the winter, skiing and snowboarding can't touch hot air ballooning.


But if the mere thought of sailing 2,000 feet above a snow-choked mountain valley sends chills to your very core, think again. Inversion tends to keep cold air trapped in those valleys, while warm air rises to the altitude balloon pilots like to fly.


Meanwhile, along the Front Range of the Rockies in the Denver area, warmer days stir up down-sloping winter winds that ground most balloon companies. So many pilots head for the hills in the winter months.


"In the winter in the mountains people can expect a different angle from what they normally see when they ski, and the experience is actually warmer when you fly," said Tommy Cederlund of Sunny Day Come Fly Away, which flies every day between Castle Rock and Boulder in the summer and fall but usually only two or three days a week in the winter.

Tips for winter rides

Cost: Mountain flights (up to $275 per adult, $225 per child 12 and under) tend to be more expensive than Front Range flights (as low as $175 per adult, $125 per child) and are less likely to be cancelled due to weather during the winter months.


Extras: Most companies offer a champagne brunch or light snack after the flight, as well as a certificate of participation.


Duration: Most flights average a little more than an hour. Some companies offer shorter flights (30-40 minutes) for a reduced rate.


Dress: Most companies advise passengers to dress like they're going skiing or snowmobiling.


Safety: Balloon pilots say a fear of heights should not keep people from flying because liftoff and descent are so gradual. Balloon companies are regulated by the FAA and equipment must be inspected every 100 hours of flight time. Ask about inspections and insurance.

Cederlund ventures up to the mountains - flying in South Park, the Vail Valley and near Breckenridge - in the winter to tap into skier clientele looking for something different to do on an off day away from the slopes. Besides the typical winter air inversion, Cederlund says keeping pace with the wind keeps things from getting too frosty aloft.


"It's like you become a part of the wind and you float with the wind, so you don't have the wind-chill factor," Cederlund said. "You become a part of the air mass, so you don't feel the wind."


Another advantage of flying in the mountains in the winter, says Merlin Sagon of Camelot Balloons in the Vail Valley, is that wildlife is more visible. Deer and elk are driven off the high peaks by heavy snow and congregate on the valley floors.


Sagon also says there's a longer window for flying in the winter because snow cover keeps the undulating mountain topography from heating up and sending up thermals that tend to buffet balloons as the day wears on in the summer months.


Then there are the multi-directional mountain winds at different altitudes that allow balloons to fly "a box in the sky," as Sagon puts it. The wind may be blowing east at one altitude and west at another, so a pilot can fly 10 miles in one direction then wind up fairly close to where he started by just changing altitude. Flights on the Front Range tend to be more linear, Sagon says.


"I want to take everyone on a scenic flight and not a 10-mile mountain hike," Sagon said. "You have to be aware of the fact that you don't have a steering wheel; you go where the winds take you."


Mountain vistas, though, are the big selling point for winter ballooning. "The main difference is going to be the scenery," Sagon said. "When you get up a couple of thousand feet and you have all of these mountains around you, it's pretty spectacular."


Jeff Meeker of Fair Winds Hot Air Balloon Flights in Boulder acknowledges the mountains are a better place to fly in the winter, but he still says passengers should be prepared.


"They'll say, 'Dress like you're going skiing,' but I ain't, I'm just standing around," Meeker said. "Down here on the Front Range, the reality is that we all fly very minimally this time of year, mainly just because of weather conditions."


The following is a list of the major companies offering hot air balloon rides in Colorado: