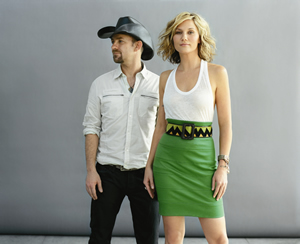 Sugarland plays the Vilar Performing Arts Center in Beaver Creek Nov. 20 to launch the new nonprofit Common Thread.
Courtesy of the Vilar Center
www.vilarpac.org
Sugarland, Emily Saliers of the Indigo Girls, Amos Lee to launch new nonprofit at Vilar Center
By realvail.com
November 2, 2008 — In an effort to share the "Common Thread" of music, lifestyle and philanthropy, country sensations Sugarland, Emily Saliers of the renowned group Indigo Girls and acclaimed singer/songwriter Amos Lee will share the Vilar Center stage at 8 p.m., Thursday, Nov. 20 to launch a brand new non-profit organization.

Conceptualized by Jennifer Nettles of Sugarland, Common Thread will be driven by her own philosophy of balanced living through music, yoga, eco-consciousness and most importantly, giving back.

"I'm hoping that Common Thread will be a multi-genre diverse bill under the 'common thread' of activism and community organization," said Nettles. "I do believe that one action can cause a great ripple and make a difference. So, if you inspire some of your fans to go out into their own communities and effect change, then that's success."

The inaugural show will feature Nettles and Kristian Bush of Sugarland, Emily Saliers and Amos Lee weaving together individual and group acoustic performances in the intimate setting of the Vilar Performing Arts Center.

A select number of VIP tickets will be available for $500. VIP ticket holders will attend a silent auction champagne reception with the artists. The auction will feature one of –a-kind artist paintings, photographs and signed memorabilia, along with a variety of resort offerings.

All proceeds from the show, along with monies raised through the silent auction, will be donated to the performing artists' charity of choice. Nettles' proceeds will benefit the American Cancer Society; Bush's proceeds will benefit the American Liver Foundation, Salier's proceeds will benefit Honor the Earth; and Lee's proceeds will benefit Music & Mentorship Program of Intercultural Family Services.

Limited VIP tickets are offered at $500. Tickets for the performance only are $150/$50 based on seating. Tickets are available online at vilarpac.org, through the Vilar Center Box Office at 888.920.ARTS(2787) or in person at the box office window in Beaver Creek. For further venue information and box office hours, please visit www.vilarpac.org.


Comment on "Sugarland, Emily Saliers of the Indigo Girls, Amos Lee to launch new nonprofit at Vilar Center" using the form below