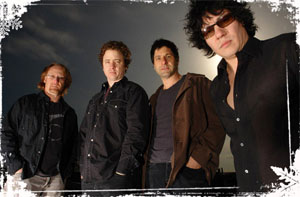 Big Head Todd and the Monsters headline a big day at Snow Daze in Vail Thursday, Dec. 11 at Dobson Arena.
Photo courtesy of Jed Gottlieb
Big Head Todd will bring music, new ideas, to Snow Daze in Vail Dec. 11
By Jed Gottlieb
December 9, 2008 — Apparently Big Head Todd's moniker is more than a snappy nickname.

Staring down the same problem as everybody else in the music industry - trying to sell CDs when anyone can steal them online - the big-brained, Boulder, Colo.-based singer/guitarist and his manager came up with a radical idea. Instead of having fans swipe the new Big Head Todd & the Monsters album, "All the Love You Need," off the Internet, the band would give away 500,000 copies of the CD.

If it sounds like one of those "just so crazy it might work" ideas, it is.

Big Head Todd and the Monsters
Where: Dobson Entertainment Arena
When: Thursday, Dec. 11
Tickets: $20 in advance, $30 after Nov. 30, $125 for Private Reserve Tickets
Tickets available
online
or locally at the Bottle & Cork in Edwards and the Marketplace on Meadow Drive in the Vail Village
Celebrate the early-season snow with Snow Daze in Vail Dec. 8-14. Music continues with Leftover Salmon Friday, Dec. 12, and check out the expo village and Demo Daze, the Snow Jam Under the Lights, the Dummy Gelunde World Championships and more during Snow Daze.
"I know, it seems a little tricky, but we haven't had to pay for a single CD yet," said Todd Park Mohr, also known as Big Head Todd, from a Northampton tour stop. "In some markets we've partnered with radio stations, in others we've found corporate sponsors. It's actually working."

BHT & the Monsters – who headline the Vail Snow Daze in Vail on Thursday, Dec. 11 – aren't obvious candidates to revolutionize the industry. Mohr's band hasn't had a hit since the 1993 album "Sister Sweetly," which was full of rock-radio hits including "Bittersweet" and eventually went platinum. But the quartet has spent more than two decades on the road playing its bluesy, jammy rock 'n' roll and consistently selling out clubs and theaters.

This giveaway is focused on extending the band's live run.

"This idea goes in the same direction Todd's been going for a while," said band manager Alex Brahl, the architect of the free CD plan. "Todd's been giving away music for years with his podcasts. But a band like this puts out a new record and only sells about 40,000 copies. We decided to forget making what little we could from 40,000 copies and give away half a million and make new fans and get people to come out to the shows."

With limited resources, Brahl has tried to make smart, calculated decisions about which demographics to focus on. They gave away the CD to 30,000 BHT mailing list members, 85,000 Relix magazine readers and six radio stations to use as promos, leading to a few, small regional radio hits. The album is also available on the band's website (bigheadtodd.com) as a free download, a $5 CD or free with a $15 merchandise purchase.

But that's just phase one.

One unintended consequence is that the music has taken a back seat to the innovative plan. While "All the Love You Need" features some of the band's catchiest songs in a decade, the giveaway, not the music, is the story.

This is, well, bittersweet for Mohr.

"Obviously, I'd love to talk about the music," he said. "It's a great set of harder-edged rock songs with fewer ballads. But that's not what people want to know about. But I can't complain about how we're getting press. I'm just happy we are."

Comment on "Big Head Todd will bring music, new ideas, to Snow Daze in Vail Dec. 11" using the form below