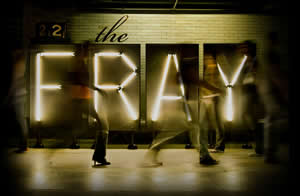 The Fray To Debut Their First Single and New Album Live in Vail, Colorado Saturday December 13, 2008 at Vail Snow Daze
Photo Courtesy of http://www.thefray.net
fray.net
Colorado-born band The Fray to debut new album as headliner of Vail's Snow Daze
Denver's Meese to open
By realvail.com
December 9, 2008 — The Fray announced today their first preview concert of their new single "You Found Me" and self-titled album to be held in Vail, Colorado on Saturday, December 13 at the Ford Park concert venue. The performance highlights Vail Snow Daze, a festival of non-stop music, on-snow events and a wide variety of après and after-dark happenings with Big Head Todd & the Monsters performing live December 11 and Leftover Salmon performing live December 12.

"We've secured a super popular Grammy Award-nominated band that chose to debut their new album and single in Vail," said James Deighan of Highline Sports & Entertainment that produces the festival. "We're thrilled to have The Fray, a Colorado-born band, perform as Vail Snow Daze's headliner concert."

The new album's long awaited first single "You Found Me" will have its world primetime premiere November 20 as the song featured in a new music video for the ABC television series "Lost," with live band performance footage and exclusive scenes from the show's upcoming fifth season. The music video will air inside ABC's "Grey's Anatomy," the same Emmy-nominated television hit that first supported the band in 2006 with "How to Save a Life." The band will also perform the song live at the American Music Awards (AMA) on November 23. The Fray's concert in Vail on December 13 is part of Vail Snow Daze, an annual festival which has hosted other prominent musical artists including Counting Crows, Ludacris, Ziggy Marley and Social Distortion.

"It's great to have The Fray back in the U.S. and performing in Vail after their run of sold-out shows around the world," said Jeff Brausch of Highline Sports & Entertainment. "With three legendary Colorado bands performing and all the on-snow fun, this is a can't-miss festival."

The Fray chose up-and-coming Denver band Meese to open their Vail concert. Since being hailed as one of Westword magazine's "Movers and Shakers for 2006," Meese has gained a significant fan-base across Colorado and the country. The band has frequently opened for The Fray, as their pop rock, piano-driven sound complements The Fray's piano rock genre.

Performing at Vail's outdoor concert venue Ford Park, gates will open for The Fray and Meese at 5 p.m. Tickets go on-sale at 8 a.m. on Friday, November 21 to coincide with Vail's opening day of the season. General Admission tickets are only $35 in advance and $50 after November 30; Private Reserved tickets are $175 and include private close-in viewing areas as well as full food and beverage service. Vail Snow Daze is offering its annual festival concert pass that allows purchasers to attend all of the event's musical performances for one great price. General Admission tickets, the festival concert pass and a limited amount of Private Reserved tickets may be purchased online at www.vailsnowdaze.com or in the Vail Valley at the Bottle & Cork in Edwards and the Marketplace on Meadow Drive in Vail Village.

For last minute lodging deals, don't forget to check RealVail's Vail on Sale Last Minute Lodging.

Comment on "Colorado-born band The Fray to debut new album as headliner of Vail's Snow Daze" using the form below