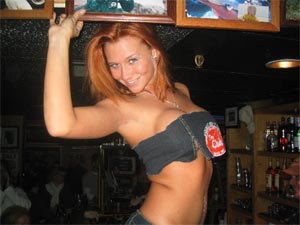 It's a different world beneath Bridge Street at The Club.
Courtesy of The Club
theclubvail.com
Vail nightlife: the best Vail bars
By Tom Boyd
December 29, 2008 — Some people only go to one bar, some people go to all the bars, and most of the people go to most of the bars. The math is fuzzy, but average it all out and somehow a bar gets a reputation, a moniker, so that everybody in town knows which bar is which, what kind of people go to which bar, and what to expect when they get there.

The following is a bar chart Vail's bars and nightlife, distinguished by the general labels which apply to all ski-town bars. All of them are located on Bridge Street or Meadow Drive in the heart of the Vail Village.

The Party Bar
The Club: Take a dive into the Club and there may be no return. Someone with an acoustic guitar and a raunchy sense of humor is always filling the dance floor, while locals and regulars populate the deck and the back. The loudest singer and the girl with the fewest inhibitions wins the free shots.

Patrol Bar
Vendettas: Although downstairs is a fine Italian restaurant, and the front section serves snowboard videos with its outstanding 'za, the V-Bar is pretty much Ski Patrol territory. Its former days as Donovan's Copper Bar assured legendary status when the bar was first conceived in the 1960s, and many a great tradition still lives on there, especially during après.

Wine Bar
Ludwig's: Tucked within the alpine glory of the Sonnenalp, Ludwig's features the smooth guitar, piano, and vocals of Don Watson and probably the most comfortable furnishings known to man, along with exquisite service and an ample wine list.

Lift-op Bar
The George: One side of this bar is outfitted with velvety sofas and dim lighting, while the other is filled with pool tables (the only place to play in Vail Village) and foosball. The middle space is pub-style all the way, and it's from there that the deep, somehow dark culture of this bar emanates (for more on that, check out their T-shirt).

Just A Good Bar
The Ore House: It's been there from Vail's very beginning, and there's good reason. Small but comfy, the Ore House bar is uber-friendly and comes with zero attitude. It's quiet enough for good conversation to ensue, and in summertime it has a premium patio which overlooks Bridge Street, making for perfect people watching.

The Dance Club
Samana: The velvet rope, the gussied-up bouncers, the supermodel bartenders, the spinning lights, and the best DJs in the state come together to make Samana the go-to bar for dancing. Blue-lit booths surround the central dance floor and the wide, arcing bar makes for easy access.

3 Comments on "Vail nightlife: the best Vail bars"