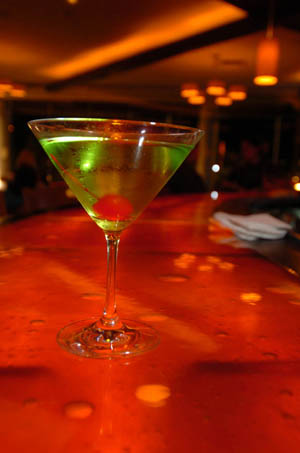 Bottoms up!

Which town has the better nightlife: Vail or Breckenridge?
By Tom Boyd
January 7, 2009 — Nobody knows how it happens, but everybody knows that it does. Through a combination of mystery, time, and hundreds of hazy nights during which friends (and sometimes enemies) are made, a good bar develops a sheen around its edge, a patina to its past, a look and feel which gives its patrons a sense of nostalgia over things which haven't even happened yet.

All these things happen in Vail, and all these things happen in Breckenridge. Viewed from afar, it would be easy for an onlooker to decide that Vail and Breckenridge bars are pretty much all the same. Or, if not the same, then at least interchangeable.


The best Vail and Breckenridge bars
The following is a bar chart of Breckenridge and Vail's bars, distinguished by the general labels which apply to all ski-town bars:
Patrol Bar

Vail

Vendettas: Although downstairs is a fine Italian restaurant, and the front section serves snowboard videos with its outstanding 'za, the V-Bar is pretty much Ski Patrol territory. Its former days as Donovan's Copper Bar assured legendary status when the bar was first conceived in the 1960s, and many a great tradition still lives on there, especially during après.

Breckenridge

The Dredge: The Blue River encompasses this one-of-a-kind bar, which sometimes floats and sometimes just gets wedged in the ice. As any patrolman can tell you, the bar doesn't float away (even though it feels like it sometimes). You can always find it by following the blue river downstream from the ski hill.
Wine Bar

Vail

Ludwig's: Tucked within the alpine glory of the Sonnenalp, Ludwig's features the smooth guitar, piano, and vocals of Don Watson and probably the most comfortable furnishings known to man, along with exquisite service and an ample wine list.

Breckenridge

The Cellar: Clean and bright, this place has the kind of wine list that could justify a clique-ish atmosphere, but friendliness wins the day. The bar features an a-la-carte menu, which makes it a nice place to wait for a friend or meet up before a night out.
Lift-op bar

Vail

The George: One side of this bar is outfitted with velvety sofas and dim lighting, while the other is filled with pool tables (the only place to play in Vail Village) and foosball. The middle space is pub-style all the way, and it's from there that the deep, somehow dark culture of this bar emanates (for more on that, check out their T-shirt).

Breckenridge

Fatties: This big bar has that old-time Saloon feeling, but its long tables give it a kind of beer-garden edge, which makes it an easy place to meet people and have a few brews. Perhaps no better bar is better for bringing together large groups.
Just a good bar

Vail

The Ore House: It's been there from Vail's very beginning, and there's good reason. Small but comfy, the Ore House bar is uber-friendly and comes with zero attitude. It's quiet enough for good conversation to ensue, and in summertime it has a premium patio which overlooks Bridge Street, making for perfect people watching.

Breckenridge

The Gold Pan: This bar has the longest-running liquor license west of the Mississippi river, which is a feat in itself. It also has foosball and pool, other games, a Franklin stove to warm things up, a super-rustic feel and a cool little live music stage. If there were only one bar in Breckenridge, this would be the bar.
The dance club:

Vail

Samana: The velvet rope, the gussied-up bouncers, the supermodel bartenders, the spinning lights, and the best DJs in the state come together to make Samana the go-to bar for dancing. Blue-lit booths surround the central dance floor and the wide, arcing bar makes for easy access.

Breckenridge:

Cecilia's: Like layers of an onion, Cecilias has a few outer rooms to get dancers ready for the plunge into their spacious black-box dancing room. The room has a trance-like quality, perhaps that's the reason why the most beautiful girls in Breck seem to be under its spell.
The party bar:

Vail

The Club: Take a dive into the Club and there may be no return. Someone with an acoustic guitar and a raunchy sense of humor is always filling the dance floor, while locals and regulars populate the deck and the back. The loudest singer and the girl with the fewest inhibitions wins the free shots.

Breckenridge:

Cecilia's: This is a repeat, but with good reason. Cecilia's is a large enough space that it can host several different parties, with several different vibes, all at once. While early in the night it may host cigar aficionados in its booths, by evening it becomes the late-night catch-all for everyone still on their feet.
Both towns have a ski patrol bar, for example, and here's how you know: some sun-drenched stud walks in with a North Face backpack and a pair of cramp-ons swung over his shoulder, he sits at a stool, the bartender knows what he wants, and the conversation calmly turns toward somebody's next attempt at the summit of Denali. A bearded guy gets into the conversation, talks about getting a Howitzer on peak 8, or hucking a charge at Genghis, everyone has nicknames like "Deuce" or "Skippy" and that's when you know you're at your patrol bar.

Second verse same as the first. At the lift-operator bar things are noiser, the bartender is cajoled into taking shots on every third pour, probably Jagermeister, and the guy-to-girl ratio is something like 10-to-one. Actually, since that blonde girl with the worn-out jeans is dating Kenny, and seems against the idea of a three-way, that ratio can be figured at closer to 15-to-one. Someone in the group knows the banjo player, and "Chewy" wants to play foosball for shots. Everyone has a nickname like "Chewy" or "T-Rod" or "Big Wave Dave," and that's when you know you're at a lift-op bar.

The parallels are uncanny. Close your eyes, spin around a few times, open them again, and try and tell which town you're in. Even the skiing is comparable: one is the largest single ski mountain in North America (Vail), while the other boasts more skier visits than any resort this side of the solar system (Breckenridge). They both have long ski histories dating back to the 1960s, both receive ample amounts of snow, and both are pretty much established as among the great resorts in North America.

But wait a minute. Sit back and sip on a beer. Take your time, look around, get to know the place. Visit once, twice, a few times, and the subtle differences begin to bubble toward the surface. Some of the categories are the same, the labels are the same, the symbols, signs, semiotics are similar – but these towns are not the same. Something definitely FEELS different. What is it?

Take a scientific approach.
Baseball caps, for example: In Breckenridge, 98.6 percent of baseball caps are worn at an angle askew to the head of the wearer, whereas in Vail 74.89 percent of said baseball caps are worn straight ahead, in perfect symmetry with the cranium of the wearer.

Or cognac: Available (in wide selection) at 56.2 percent of Vail's evening-time establishments, compared with a 14.6 percent cognac-availability rating in Breckenridge. (Note: Chances of being looked at askance during the ordering of cognac also increase in Breckenridge, whereas in Vail the most common observed response is, "Would you like Remy Martin, Hennessy, or Courvoisier.")

Or banjos: In Breckenridge, which celebrates its sesquicentennial in 2009 (the town was established in 1859), and therefore has a long history of mining, cowboy-boot wearing, yeehawing and fingerpicking, the per-capita banjo ratio is roughly 1-100, compared to a 1-900 banjo-to-citizen ratio in Vail.

Or jazz: In Vail, Steinway pianos are strategically placed in acoustically optimal locations in the corners of carpeted rooms with white walls. The lighting is dimmed, but not too much, and people can hear one another make learned noises of appreciation as Tony Gulizia plays a sparkling rendition of "Take Five," with Tom Kirk on sax, as they gather around the wine bar.

Or dreadlocks: In Breckenridge they scour the papers looking for the name Arnie Green, the dreadlocked icon of Summit County, hoping to find he'll be playing somewhere at any of the many rustic rooms where 100-year-old walls soak-in sound like bunt cake soaking rum. By the time he strikes that first chord, everyone feels like an announcement has been made that running of the rat-race has been officially called off.

Or Jazz and dreadlocks: The chances of finding jazz in Breckenridge are directly proportional to the chances of finding dreadlocks in Vail. Not impossible, but not likely either.
Take a spiritual approach.
Expert analysis will reveal that all of the preceding statistics are unreliable and based solely on a series of beer-soaked explorations by a dubious source into the field (the notes from which are shamefully stained by Appleton rum). However, science is not critical to establishing the veracity of the underlying message: all ski towns are not created equal. It's a spiritual thing. The respective nightlife of Vail and of Breckenridge, despite general similarities, have a different soul.
Take a pragmatic approach.
It comes down to proportions. Vail has more in the line of the small wine bar, the clean, well-lit place where one needn't raise their voice to talk to their neighbor. Breckenridge is proud to have less of that, almost none, opting instead for ample proportions of the everyday bar, the wooden stool, the cowbell tip-jar, the goateed bartender slinging beers in a "1998 Champs" softball shirt and a wet towel over his shoulder. Vail has its fair share of wooden stools, great pizza, and blue-collar bartenders (ask Dawn at Vendettas to crank up the Whitesnake and she will gladly oblige), but it also has imported Europeans in spotless, lacy Bavarian uniforms serving cold, refreshing, Pilzner Urquell on Pepi's deck, "Danka!"
Take a historic approach.
Vail may feel Old World, but it is quite new, built from scratch in the 1960s and re-built and re-modeled almost continually ever since (the latest and greatest being the "Billion-Dollar" renewal which, by the way, is more like a three-billion-dollar renewal). It is always on the cutting edge, setting the trend, and reaching for a higher standard.
Breckenridge is an old town, formed when Colorado was still a territory and Utes still freely roamed the mountains on the other side of the Continental Divide (where Vail sits today). Its bars were once saloons, its hotels once taverns, the blood of gunfights is still aging somewhere in the molecular makeup of the pinewood floors, and the history of the place is palpable, tangible, infused into the mentality of the people who live and work there.
Take the existential approach
Being there is the thing. To taste a Budweiser at Vail's patrol bar and to taste a Budweiser at Breckenridge's patrol bar are two separate, distinguishable actions which yet, somehow, are tied together by the fluidity of the universe. They're the same, but different. The only way to discover the true secrets of this puzzle is to experience it for oneself, to go there, to sit down, to make an order, and to imbibe upon the various stools of ski country until the soul is satisfied of its place in this world.
Question: If Vail and Breckenridge feel different, then what is it?
Answer: If you go, you'll know.
Question: So which town has the better nightlife?
Answer: Depends on who you are.

Comment on "Which town has the better nightlife: Vail or Breckenridge?" using the form below