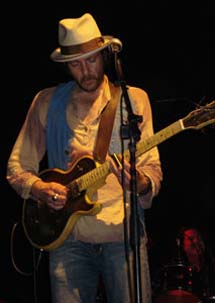 Marc Ford, formerly of the Black Crowes, brings the Neptune Blues Club to Vail

Street Beat is back with Marc Ford
By realvail.com
January 19, 2009 — Break out the noisemakers and party favors as the Vail Valley Foundation officially kicks off the tenth anniversary season of the Bud Light Street Beat free concert series, Wednesday evening, Jan. 21, 2009 at 6 p.m.

The ten-year anniversary celebration immediately shifts into high gear as Marc Ford, former lead guitarist of The Black Crowes, brings his Neptune Blues Club band to Checkpoint Charlie in Vail Village for a rousing, high octane evening of rocking blues.

Ford joined The Black Crowes in 1992, immediately contributing to the band's second recording, The Southern Harmony and Musical Companion, which hit Number 1 on the Billboard charts and earned a double platinum certificate for sales. His addition to the Black Crowes sound, which featured a healthy dose of slide guitar and southern twang, helped define the band as one of rock music's premier acts. He left the group in the fall of 1997.

One of Ford's new projects, the Neptune Blues Club, is a contagious dance band, constructed on a solid foundation of Los Angeles roots royalty that includes Stephen Hodges on percussion, John Bazz on bass and groove-master Anthony Arvizu behind the kit. The harmonic architecture is provided compliments of Mike Malone's greasy B3 & piano, while the vocals are supplied by Ford and Malone, sharing the solos with the ill mannered harmonica of Bill Barrett.

This kaleidoscopic collection of influences creates a sum greater than its parts and the Neptune Blues Club's mission is clear, as founding elder Bernard Steelflex said about the music "make them writhe with abandon".



Comment on "Street Beat is back with Marc Ford " using the form below