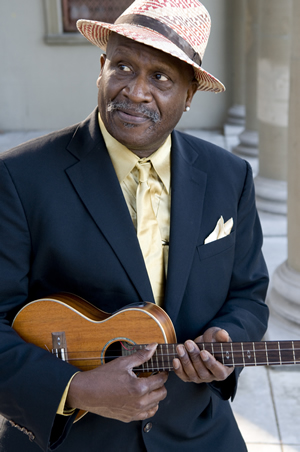 Taj Mahal playin' the blues

Legendary Taj Mahal to play at American Ski Classic Street Beat
By realvail.com
January 22, 2009 — The final lineup for the tenth anniversary edition of the Bud Light Street Beat free concert series is complete as legendary bluesman Taj Mahal and his band have been selected to fill the special performance on Thursday, March 19, held in conjunction with the 2009 American Ski Classic.

In addition to being the lone Bud Light Street Beat show of the season to be held on a Thursday evening, this free concert venue will also move out of Vail Village to the Ski Classic's Golden Peak stadium at the base of Vail Mountain.

"We are very excited to be able to bring Taj Mahal to the Vail Valley for free," offered Michael Imhof, Vice President of Sales and Operations for the Vail Valley Foundation. "It is going to be a great show and a wonderful addition to both the Bud Light Street Beat series and the American Ski Classic."

Henry St. Claire Fredericks, better known as Taj Mahal, is one of the most prominent and influential figures in late 20th century blues and roots music. Though his career began more than four decades ago with American blues, he has broadened his artistic scope over the years to include music representing virtually every corner of the world.

Fredericks studied agriculture at the University of Massachusetts at Amherst in the early 1960s. Inspired by a dream, he adopted the musical alias of Taj Mahal and formed the popular U. Mass party band, the Elektras.

After graduating, he headed west in 1964 to Los Angeles, where he formed the Rising Sons, a six-piece outfit that included guitarist Ry Cooder, opening for numerous high-profile touring artists of the '60s, including Otis Redding, the Temptations and Martha and the Vandellas. Around this same time, Taj Mahal also mingled with various blues legends, including Howlin' Wolf, Muddy Waters, Junior Wells, Buddy Guy, Lightnin' Hopkins and Sleepy John Estes.
Later, Taj Mahal signed with Columbia Records to begin his solo career, releasing the self-titled Taj Mahal in 1968, The Natch'l Blues in 1969, and Giant Step/De Old Folks at Home, also in 1969.

During this time he and Cooder worked with the The Rolling Stones, with whom he has performed at various times throughout his career. He performed on a film "The Rolling Stones' Rock & Roll Circus," which was shot years ago but not released until recently.

He recorded a total of twelve albums for Columbia Records from the late 1960s into the 1970s, his work of the 1970s especially important in that his releases began incorporating West Indian and Caribbean music, jazz and reggae into the mix. In 1972 he wrote the film score for the movie Sounder, which starred Cicely Tyson.

In the 1990s, he released albums full of blues, pop, R&B and rock, collaborating on works with both Eric Clapton and Etta James. In 1997 he won a Grammy Award for Best Contemporary Blues Album for Seņor Blues, which was followed by a second Grammy for Shoutin' in Key in 2000.

Fittingly, Taj Mahal prefers to do outdoor performances, saying: "The music was designed for people to move, and it's a bit difficult after a while to have people sitting like they're watching television. That's why I like to play outdoor festivals-because people will just dance. I just play to the goddess of music and I know she's dancing."


For additional information on Bud Light Street Beat, visit www.streetbeatconcerts.com.




Comment on "Legendary Taj Mahal to play at American Ski Classic Street Beat" using the form below