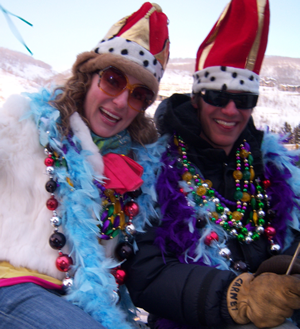 Last year's Mardi Gras king and queen in Vail's "CarniVail" parade.

Mardi Gras celebrated Vail-style
Merriment and Mardi Gras in the mountains
By realvail.com
February 13, 2009 — Vail's Bridge Street will become New Orleans' Bourbon Street with CarniVail's Fat Tuesday Parade and Bud Light Street Party on Tuesday, Feb. 24.

Part of Vail's Mardi Gras celebration, the Fat Tuesday festivities will commence at 3 p.m. in Vail Village with the crowning of the CarniVail King and Queen, followed by the King Cake Eating Contest and concluding with the Float Parade beginning at 4 p.m.

A cash prize of $1,000 will be awarded to the first place float; registration is free and now available online at carnivail.net. The Tony G All Stars will perform throughout the evening's festivities.

"The Bud Light Street Party and Fat Tuesday Parade will be a real blast," said Greg Schwartz of Highline Sports & Entertainment. "We've already received a number of float entries but can certainly host a whole lot more. Who couldn't use an extra $1,000 in cold, hard cash?"

This year, a grand prize of $1,000 will be awarded to the first place Fat Tuesday float entry. In addition to the float contest, the Bud Light Street Party will offer attendees a full sensory experience. Festivities will include the CarniVail King & Queen crowning ceremony, the public King Cake Eating Contest, Tony G All Stars, free give-aways as well as food and beverage service provided by Old Forge Pizza and other local merchants.

Attendees are encouraged to dress up in purple, green and gold and enjoy the Mardi Gras celebration on Bridge Street in Vail Village.

"Fat Tuesday is going to be a jam-packed night of Mardi Gras merriment in Vail Village!" said James Deighan of Highline Sports & Entertainment. "For locals and guests alike, the week of CarniVail is a fun and family-friendly time."

Float entry forms can be found online at carnivail.net and must be submitted to Natalie Fandrey at Highline Sports & Entertainment by Thursday, Feb. 19. Natalie can be reached at Natalie@goghighline.com or (970) 476-6797 x 108.

If local organizations and businesses are interested in participating in the Fat Tuesday Parade but unable to construct a float, they are welcome to walk in the parade. Please contact Natalie with questions and details.

It's all part of the CarniVail festival, Vail's annual Mardi Gras festival held Sunday, Feb. 22 through Tuesday, Feb. 24. New this year will be a free concert featuring Jo Jo's Mardi Gras Band with Widespread Panic's "Jo Jo" held Friday, Feb. 27 from 6-9 p.m. at Checkpoint Charlie concert venue in Vail Village. For a complete CarniVail schedule, visit carnivail.net. Laissez les bon temps rouler!

CarniVail is yours thanks to Vail Mountain, Bud Light, Amp Energy, Navan, Verizon Wireless, Town of Vail and Outside Magazine and is sponsored in part by Vail Daily, TV8 the official TV station of Vail and Beaver Creek Resorts and KZYR-The Zephyr. Visit www.CarniVail.net for more information.


1 Comment on "Mardi Gras celebrated Vail-style"