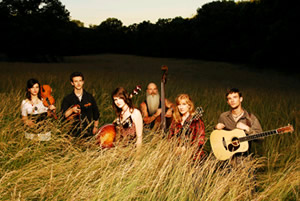 Cherryholmes, a critically acclaimed family bluegrass band, takes the stage at the Vilar Performing Arts Center in Beaver Creek on March 10.
Courtesy of the Vilar Performing Arts Center
www.vilarpac.org
Grammy-nominated family bluegrass band Cherryholmes to play Vilar March 10
By realvail.com
February 16, 2009 — Fifteen years ago, Jere Cherryholmes was working as a carpenter in Louisiana while his wife Sandy raised the family in Nashville. The last thing on his mind was forming a family bluegrass band.

However, the death of the couple's oldest daughter of a heart ailment changed all that. In an effort to get the family's minds off their grief, Jere organized a road trip ... to a bluegrass festival. He came away so impressed that he started a band with his wife and kids, picking everyone's instruments for them.

Jere Cherryholmes, dad, bass player and self-described "benevolent dictator," brings his Grammy-nominated family bluegrass band to the Vilar Performing Arts Center for a one-of-a-kind musical experience Tuesday, March 10, at 7:30 p.m.

Winners of the 2005 International Bluegrass Music Association's
Entertainer of the Year Award, Cherryholmes' sound is a unique blend of twin fiddles, Irish step dancing, yodeling, clawhammer banjo and gospel singing, in addition to bluegrass and vocal harmony.

While dad hammers the bass, Cia Leigh often takes the vocal lead and plays banjo, Molly and BJ man the fiddles, Sandy plays mandolin and Skip picks guitar.

"I've been able to watch my kids mature physically, mentally and
emotionally, as well as musically," says Jere. "They have started to write some great music of their own and it's interesting to see how, even without any real influence from us, how they gravitate toward musical sounds that Sandy and I really enjoyed."

The band's new release, Cherryholmes III: Don't Believe, features a track entitled "This Is My Son," a song Cia wrote after talking to a Knoxville DJ whose son was heading to Iraq. It will be the first Cherryholmes tune targeted specifically for country radio.

Cherryholmes III: Don't Believe was nominated for a 2009 Grammy for Best Bluegrass Album of the Year, while the group received a second nomination for Best Country Instrumental. In addition, the band's musicianship and family dynamic will also be chronicled in a documentary by noted television producer Bill Hayes.

This past January, Cherryholmes performed a show backed by a full
symphony in Portland, Ore. Five other such dates are in the offing for later in 2009.

Needless to say, the history of Jere's family band is anything but conventional. However, the future certainly looks bright for the family Cherryholmes.

Tickets for Cherryholmes are $45 and are available online at www.vilarpac.org, by phone at
(888) 920-ARTS(2787), or in person at the Vilar Center box office in Beaver Creek. Tickets are available online 24 hours a day; the box office is open Monday through Saturday from 11 a.m. to 5 p.m., with additional hours on performance days.



1 Comment on "Grammy-nominated family bluegrass band Cherryholmes to play Vilar March 10"