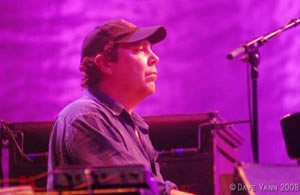 Keyboard player JoJo of Widespread Panic plays a free solo show in Vail Village
Courtesy of Widespread Panic
Widespread Panic's JoJo brings his Mardis Gras Band to Vail for free CarniVail show
By realvail.com
February 20, 2009 — John "JoJo" Hermann of Widespread Panic brings his Mardi Gras Band to CarniVail on Friday, Feb. 27 for a free concert from 6 to 9 p.m. at Vailšs Checkpoint Charliešs outdoor venue in Vail Village.

The Widespread keyboard player's show is the closing event to this yearšs weeklong CarniVail festival, which kicks off Sunday. Go to www.CarniVail.net for a complete schedule.

"The addition of a free concert is new to the CarniVail schedule this year," said James Deighan. "JoJo's Mardi Gras Band is a rockin' jam band and will put on an amazing show here in Vail. Their music is upbeat and festive and a perfect fit for CarniVail's free outdoor concert. It's just another way Vail
is showing All the Love!"

John "JoJo" Hermann formed the Mardi Gras Band shortly after his band, Widespread Panic, decided to take a year and a half off from their rigorous touring schedule. The band is made up of Max Abrams on the saxophone, Johnny Few on bass, Hunter Williams as percussionist, Kevin Mabin on drums and legendary keyboard Hermann.

The group is best known for its soul moving gospel sounds on its many New Orleans style jazz and blues covers and originals.

"The Mardi Gras Band will be sure to provide a night of dancing, partying and great entertainment in the streets of Vail Village," said Natalie Fandrey of Highline Sports & Entertainment. "JoJo can capture the quintessential sound of New Orleans' Cajun funk and blues and will have concertgoers dancing and partying to round off the jam-packed week of
CarniVail festivities and merriment."

The concert will commence at 6pm the Checkpoint Charlie concert venue in Vail Village and is free to the public. Food courtesy of Old Forge Pizza will be available for purchase.

It's all part of the CarniVail festival, Vail's annual Mardi Gras festival held Sunday, Feb. 22 through Friday, Feb. 27.




Comment on "Widespread Panic's JoJo brings his Mardis Gras Band to Vail for free CarniVail show" using the form below