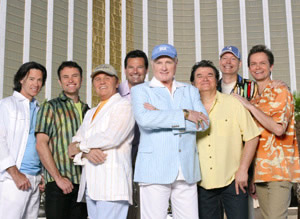 Surf's up at the Beav' as the Beach Boys ride back into town
By realvail.com
March 2, 2009 — The Beach Boys, whose sunny vocal harmonies are one of the signature sounds of the modern era, return to the Vilar Performing Arts Center in Beaver Creek on Saturday, March 7.

A limited number of tickets were still available Monday, according to VPAC officials.

The Beach Boys began mostly as a family affair in the Los Angeles suburb of Hawthorne, California in 1961. Brothers Brian, Carl and Dennis Wilson joined with their cousin Mike Love and friend Alan Jardine to form the original group.

Their earliest hits, "Surfin'," "Surfin' Safari," "Surfin' U.S.A." and "Surfer Girl," all released in 1962-63, helped raise the profile of the state of California and the sport of surfing.

The group also celebrated the Golden State's obsession with hot-rod racing ("Shut Down," "409," "Little Deuce Coupe") and the pursuit of happiness in less complicated times ("Be True to Your School," "Fun, Fun, Fun," "I Get Around"). The Beach Boys' first golden era lasted until 1965, and they charted 16 hit singles in a very competitive Top Forty.

The Beach Boys showed increasingly sophisticated arrangements with such harmony-filled pop tunes as "Help Me, Rhonda," "California Girls," "Wouldn't It Be Nice," "God Only Knows" and "Sloop John B." Their release "Good Vibrations" returned The Beach Boys to the top of the charts in 1966 and added a new phrase to the pop-culture vocabulary.

For this vast accumulation of timeless music, perfect harmonies and gorgeous melodies, The Beach Boys were inducted into the Rock and Roll Hall of Fame in 1988.

Under the leadership of original singer Mike Love, the quintet returns to the stage in Beaver Creek, once again bringing the group's enduring voices and timeless classics to life in the Rocky Mountains.

Tickets for The Beach Boys are $90/$120/$160 and are available online at www.vilarpac.org, by phone at 888.920.ARTS(2787) or in person at the VPAC box office in Beaver Creek. Tickets are available online 24 hours a day; the box office is open Monday through Saturday from 11 a.m. to 5 p.m., with additional hours on performance days.

The Vilar Performing Arts Center is a project of the Vail Valley Foundation. For more information on the Vail Valley Foundation, visit www.vvf.org.

Comment on "Surf's up at the Beav' as the Beach Boys ride back into town" using the form below