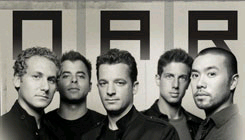 O.A.R. (Of A Revolution) wraps up Spring Back to Vail on closing day April 19 with a free show in Vail Village.

Isaak, Matisyahu, O.A.R. to play three free Spring Back to Vail shows in Vail Village
By realvail.com
March 7, 2009 — Spring Back to Vail, the valley's high-energy, end-of-season festival, returns April 13-19 with three free Vail Village concerts featuring Chris Isaak on Friday, April 17, Matisyahu on Saturday, April 18, and Of a Revolution (O.A.R) on Sunday, April 19 (closing day).

Now in its seventh year and recognized as one of the nationıs largest spring bash in the mountains, Spring Back to Vail combines music, on-mountain events, in-town parties, the
ever-popular World Pond Skimming Championships and new for 2009, the Breitling All Mountain Film Competition.

"Vail is certainly showing 'All the Love' at this yearıs Spring Back by providing an outstanding concert lineup for one great price ­ free," said James Deighan of Highline Sports & Entertainment.

"Chris Isaak, Matisyahu and O.A.R. are all known for their spectacular live shows and weıre thrilled to host them here in Vail. As the Vail All The Love campaign continues to share exclusive offers with guests and locals alike, featuring three free Spring Back to Vail concerts is just another example of Vail
Resortıs and the Town of Vailıs commitment to the campaign."

As a multi-platinum artist with nine albums, 12singles and two Grammy nominations, Chris Isaak is an American legend who has entertained legions of loyal fans for more than two decades.

Known for his charismatic stage presence, the performer and his band of 20 years is recognized by classics such as "Wicked Game," "Baby Did A Bad Thing," "Somebodyıs Crying" and "Blue
Hotel."

"I have a tremendous commitment to having a show go well and I think about what I am going to do on stage," said Isaak. "Iıve been so lucky because the guys I play with are not only great musicians but they enjoy playing live. We have to have fun because the fun starts with us and moves into the audience."

Matisyahu, formed in 2001, and known for blending traditional Jewish themes with Reggae, rock and hip-hop sounds will bring his dynamic brand of music to Vail Saturday, April 18. Since his debut, Matisyahu has received remarkable reviews from both rock and reggae outlets and was named Top Reggae Artist of 2006 by Billboard.

"Matisyahu has an electrifying stage presence and high energy at all of his live shows," said Jeff Brausch of Highline Sports & Entertainment. "He performed at Vailıs Gerald R. Ford Amphitheater a few years ago and drew a huge crowd.His unique beat-boxing and impressive vibrancy is sure to get people jamming and dancing in Vail Village."

To celebrate the conclusion of another fabulous Vail winter season and to round out the three night concert series, Of a Revolution, better know as O.A.R., will perform on Sunday, April 19, in Vail Village.This is the first year Spring Back to Vail is offering a Sunday evening concert following closing dayıs on-mountain festivities.

Founded in 1996, O.A.R. became an instant hit among college students due to its massive online distribution over campus networks. Without any formal marketing or advertising plans, news of their songs such as "That Was a Crazy Game of Poker," "City on Down" and "Night Shift" spread by word of mouth alone.

Not long after the bandıs conception, the band landed the No. 40 spot on Billboardıs Top 200 List in 2005, held a sold-out concert on New York Cityıs Madison Square Garden in 2006 and has sold in excess of 1.2 million albums.

"O.A.R. is absolutely going to kill it at Spring Back,"said Deighan. "They have multitude of die-hard fans from across the U.S. who are sure to mark the concert on their calendar. There has been a massive demand for these guys and we are lucky to have them in the concert line-up."

Concert-goers are encouraged to dress appropriately for the outdoor performances. Food and beverages will be available for purchase at each show. Stay tuned to www.springbacktovail.com for concert updates including venue locations and performance times.

Vail Resortıs lift ticket package includes the purchase of a seven-day lift ticket for $199. The package is valid April 13-19, and offered on an advance purchase only. For additional package information visit www.vail.com.

For the inside track on Vail this season, including lodging deals, exclusive offers from the Vail Snowsports School, on-mountain dining, Adventure Ridge, and in-town restaurants and shops go to www.vailallthelove.com.

Spring Back to Vail 2009 is presented by Vail Resorts, Bud Light, Town of Vail, Amp Energy, Tuaca, Volvo, Breitling and SKI Magazine. Brought to you in part my Smith Optics, Liberty Skis, Nature Valley Granola Bars, Vail Daily, KVBA TV8 and KZYR The Zephyr.


Comment on "Isaak, Matisyahu, O.A.R. to play three free Spring Back to Vail shows in Vail Village" using the form below