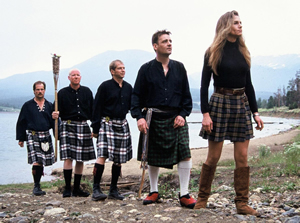 Colorado's top Celtic rock act, the Indulgers, will put Vail in the St. Patrick's Day spirit with a free Street Beat show Wednesday, March 11, at 6 p.m. in Vail Village.

Celtic rockers the Indulgers get Vail in St. Paddy's Day groove with free show Wednesday
By realvail.com
March 9, 2009 — The Indulgers were born on a Wednesday night as a resident act at a Denver Irish Pub known as FADO. Practice sessions were "hosted" in the pool room of Nallen's Irish Pub, with anyone that wandered upstairs politely asked to come back later.

That Wednesday evening connection will continue March 11 as Colorado's premier Celtic band takes up residence on Gore Creek Drive, helping to usher in the St. Patrick's Day spirit with a free Bud Light Street Beat, presented by Volvo, performance in Vail Village at 6 p.m.

The quintet, comprised of singer/songwriter Mike Nile; fiddle player Renee Fine; drummer Pat Murphy, Jr.; bassist Chris Murtaugh and Irish vocalist Damien McCarron, has been together since 1998, winning numerous accolades for flawlessly blending traditional Celtic music and instruments with those of rock and roll.

McCarron hails from Dublin, Ireland, growing up immersed in a melting pot of great Irish music, ranging from the traditional to Dublin's modern rock legends, while Niles spent years traveling as the bass player for the legendary rock band Spirit.

Fine is a classically trained fiddler, who has played with the Boulder Philharmonic, while Murphy and Murtaugh provide the backbone of the band's infectious, famously danceable music.

The band's ability to fuse a multitude of traditions and influences resulted in their being named Colorado's Independent Band of the Year in 2003.

Their first release, "In Like Flynn", garnered numerous awards, including 2000 Ethnic CD of the Year and Celtic Song of the Year for its title track. The CD also peaked at number two on Amazon.com's International Independent Chart.

Their new single, "Whiskey Tonight", is the first release in 2009 from the band's 7th CD of the same name. The new song hits home with the same good time impact expected of an Indulger's song, heralding a return to their "rockin' pub sound" on the heels of "Out In The West", a CD with a broader scope of arrangement and songwriting, inspired by the western legends, culture and experiences of the Irish/Scottish immigrants, who came to America bound for a new life in the West.

All Bud Light Street Beat free concerts get under way at 6 p.m. at either Checkpoint Charlie in the heart of Vail Village or at the Arrabelle at Vail Square in Lionshead. Concert-goers are encouraged to dress appropriately for the outdoor performances, with food and beverages available for purchase at each show.

In addition to the free concert, Eagle, Lake and Summit County residents can register to win the season-long grand prize as Volvo Cars of North American will give away a 2009 Volvo C-30 to one lucky local at the final concert on April 15.

Out of town guests can also cash in as Volvo Cars of North America, the Vail Valley Foundation and the Town of Vail have teamed up to provide the Volvo Vail Grand Prize Guest Giveaway for a lucky non-resident, featuring a return vacation trip to Vail with deluxe accommodations. The Volvo Vail Grand Prize Guest Giveaway will also be awarded at the final free performance.

The Bud Light Street Beat free concert series will rock on this month with performances including the special American Ski Classic show at Golden Peak with Taj Mahal on March 19 and John Brown's Body on March 25. Additional free shows are slated for April 1, 8 and 15.

The Bud Light Street Beat free concert series, presented by Volvo, is a project of the Vail Valley Foundation. For additional information on Bud Light Street Beat, visit www.streetbeatconcerts.com.

Comment on "Celtic rockers the Indulgers get Vail in St. Paddy's Day groove with free show Wednesday " using the form below